An Employment Authorization Document (EAD) is an identification card that U.S. Citizenship and Immigration Services (USCIS) issues to certain qualifying foreign nationals to work in the United States. Many people refer to the card as a work permit. At USCIS, the Employment Authorization Document is known as Form I-766.
The EAD card contains a photograph of the individual authorized to work and may include the individual's fingerprint. A foreign national who has an EAD usually has open-market employment authorization, but there are exceptions. The card (Form I-766) is a valid I-9 document for employers.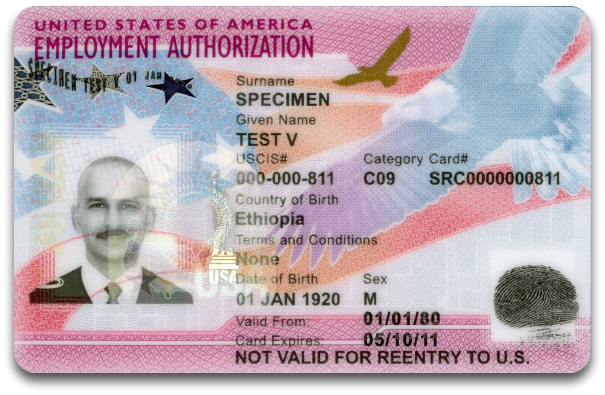 EAD Validity Period
Generally, an Employment Authorization Card is only valid until it's expiration date. Depending on the individual's immigration status, USCIS typically issues cards for a two-year period or less. However, certain EADs held by individuals with Temporary Protected Status (TPS) and other designated categories may be automatically extended beyond the validity date on the card.
Eligibility for an Employment Authorization Document
There are fundamentally two different types of nonimmigrants who may be eligible to request an EAD. Certain foreign nationals are authorized to work in the United States based on their immigration status. Although they are already authorized to work, they may need evidence of that privilege. Examples include asylees and refugees. Other foreign nationals are inside the U.S. but need to request special permission to accept employment. Examples include adjustment of status applicants, DACA, asylum seekers, and certain students.
RECOMMENDED: List of Eligibility Categories for EAD
Permanent residents (green card holders) do not need an Employment Authorization Document. The green card is proof of the cardholder's status and work authorization. Likewise, nonimmigrants authorized to be employed with a specific employer do not need an EAD. Examples of nonimmigrants with this status include H-1B and TN visa.
RECOMMENDED: U.S. Work Visa Types for Foreign Nationals
How to Request an EAD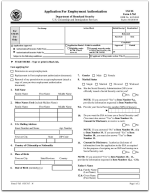 Foreign nationals who are eligible for an Employment Authorization Document may request one with Form I-765, Application for Employment Authorization. In some cases, the initial request for work authorization must be submitted with the application for the underlying status.
Typically, an applicant should include the following items for an initial request:
Form I-765
Two passport-style photos
Proof of eligibility
The list above is a generalization. In other words, applicants must submit other specific supporting documents depending on the qualifying basis of eligibility. Additionally, certain initial I-765 requests get submitted with the primary application.
Mistakes on your I-765 application can cause costly delays or a denial.
Prepare your I-765 correctly and affordably with CitizenPath. The attorney-reviewed software guides you through the application and provides help to answer questions like this one. And personalized filing instructions help you to file your application today knowing that
you did everything right
! No credit card or signup required to get started.
Try it before you buy it >>
Applicants that prepare Form I-765 through CitizenPath's service also receive personalized filing instructions. The filing instructions will be based on your specific situation and will explain exactly what documents to send with Form I-765.
RECOMMENDED: How to Apply for a U.S. Work Permit
Renewal
You may renew your Employment Authorization Document if you are still eligible for work authorization. File a new Form I-765 and select the "renewal" option. Generally, you should not file for a renewal EAD more than 180 days before your most recent EAD expires.
Replacement
You may replace your Employment Authorization Document if your most recent EAD is lost, stolen or destroyed. File a new Form I-765 and select the "replacement" option. If you did not receive an EAD that USCIS mailed, you can submit an inquiry on non-delivery of a card.