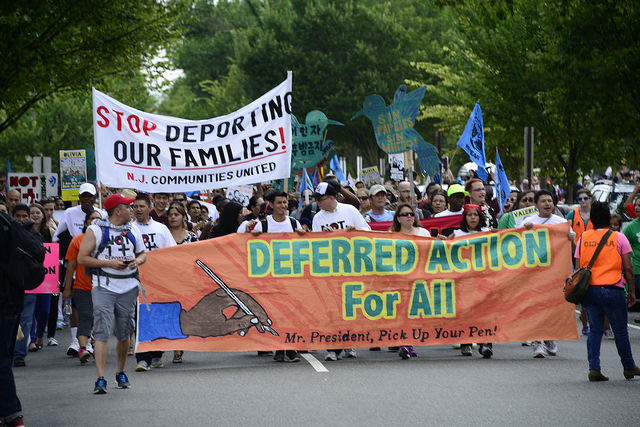 Deferred action is a technical way of saying that the beneficiary is protected from deportation. It's a discretionary determination to defer removal action of an individual as an act of prosecutorial discretion. Individuals who receive deferred action will not be placed into removal proceedings or removed from the United States for a specified period of time.
Typically, the U.S. Department of Homeland Security grants deferred action to individuals who are in removal proceedings, who have final orders of removal, or who have never been in removal proceedings. It's a temporary status, and it can be revoked at any time. However, there is no direct path to lawful permanent residence (green card) or to U.S. citizenship.
RECOMMENDED: Long-Term Immigration Solutions for Dreamers
Deferred Action for Childhood Arrivals
On June 15, 2012, President Obama created a new policy calling for deferred action for certain undocumented young people who came to the U.S. as children. Applications under the program which is called Deferred Action for Childhood Arrivals ("DACA") began on August 15, 2012.
The grant of DACA does not provide legal status or a path to citizenship for the DACA recipient. In addition, it does not excuse the applicant's previous periods of unlawful presence. However, an applicant who is granted DACA will not be deemed to be accruing unlawful presence in the U.S. during the time period when deferred action is in effect. This may be important if future laws (e.g. DREAM Act) provide the same individuals a path to citizenship.
RECOMMENDED: DACA Resource Center
Mistakes on your DACA application can cause costly delays or a denial.
Prepare Forms I-821D, I-765, and I-765WS correctly and affordably with CitizenPath. The attorney-reviewed software guides you through the application and provides help to answer questions like this one. And personalized filing instructions help you to file your application today knowing that
you did everything right
! No credit card or signup required to get started.
Try it before you buy it >>
Deferred Action Expansion
President Obama announced several executive orders on November 20, 2014. In this memo, eligibility for the Deferred Action for Childhood Arrivals (DACA) program was expanded. The U.S. Supreme Court's 4-4 split decision on June 23, 2016, effectively blocked President Obama's executive actions on immigration that expanded DACA. Thus, the program was never expanded.
DACA Cancellation
In 2017, President Trump announced the decision to end the DACA program all together. However, two courts quickly put temporary injunctions on the plans to shut down the DACA program. Although the Trump administration has made repeated attempts to dismantle the program, courts have generally ruled in favor of DACA.
Currently, USCIS is accepting first-time and renewal applications for DACA.
RECOMMENDED: What the DACA Decision Means for Dreamers