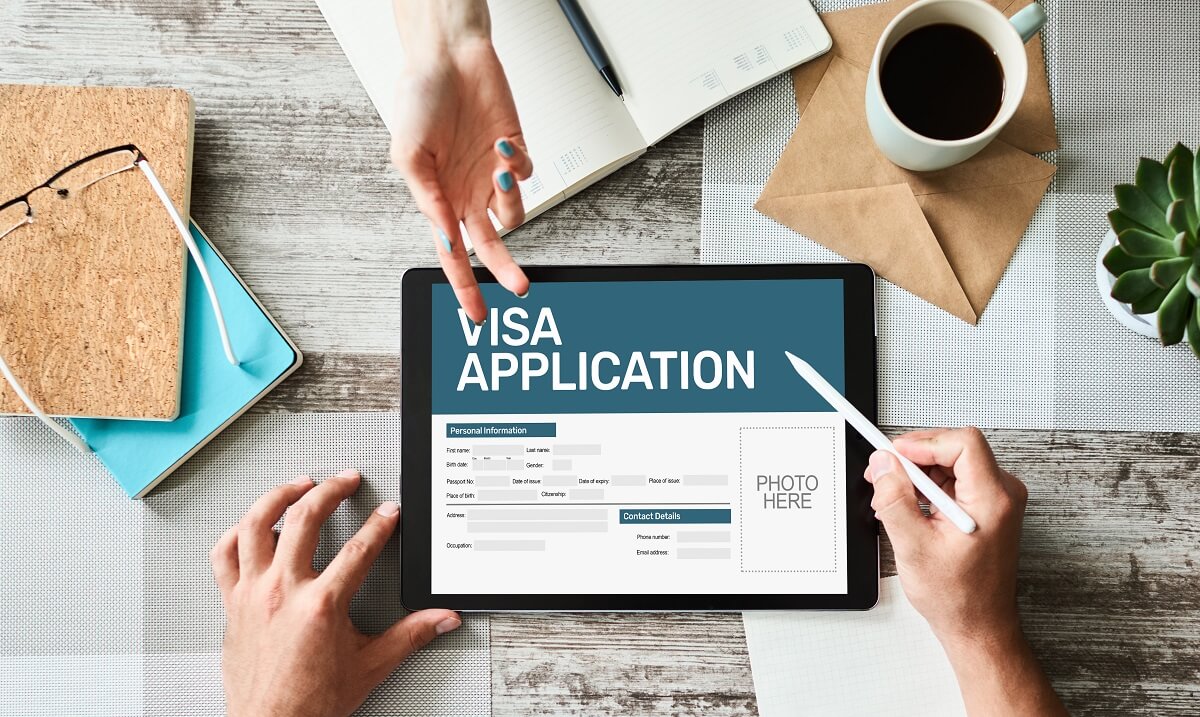 A dual intent visa allows foreign nationals to be temporarily present in the United States with the intention of possibly immigrating to the U.S. permanently. That's significant because most nonimmigrant (temporary) visas require that the visitor demonstrate a nonimmigrant intent. Thus, attempting to adjust status to permanent resident with other nonimmigrant visas can potentially trigger long-term immigration problems.
Nonimmigrant Intent Explained
The majority of nonimmigrant visa applicants must demonstrate that they have a nonimmigrant intent. In fact, most applicants will find it difficult to qualify for a U.S. nonimmigrant visa, such as a visitor visa, if there is evidence of the person's intent to immigrate at any point in the future.
U.S. immigration law provides for the existence of immigrant visas and nonimmigrant visas. The U.S. issues immigrant visas (green cards) to foreign nationals who will live and work permanently in the United States. On the other hand, nonimmigrant visas are for temporary visits to the United States. For example, nonimmigrant visa categories (such as B, F, J, M, Q, TN and visa waiver program visitors) have short-term activities assigned to them.
Before the U.S. government will issue a visa, foreign nationals must state their intentions and prove to the consular officer that they meet the standards required by the particular visa classification for which they're applying. In fact, the consular officer will presume that every applicant for admission intends to stay in the U.S. permanently unless the applicant can prove that they will depart as required. The burden is on you to show that you will depart the U.S. once the stated purpose your trip has concluded and/or the authorized stay has expired. During the visa application process, immigration officers look for reassurances that you have sufficient ties to your home country that will compel you to leave the U.S. after the temporary stay. In particular, an officer will consider the factors of previous immigrant petitions and family ties.
Previous Immigrant Petitions
The nonimmigrant visa application (Form DS-160) will ask, "Has anyone ever filed an immigrant petition on your behalf with the United States Citizenship and Immigration Services?" This question is asking if a family member, business or other entity has every filed a petition to help you get a green card. Forms I-130, I-140 or I-360, are examples of immigrant petitions. This doesn't necessarily mean that you plan to immigrate now, but it is an indicator that you've had an immigrant intent in the past. Therefore, the consular officer will want to know more.
Family Ties in the United States
The DS-160 will also ask that you provide information about any relatives, including those living in the United States. If you have close relatives in the United States, especially a spouse, you are more likely to have an immigrant intent.
Proving Nonimmigrant Intent at Your Consular Interview
Part of the consular officer's job is to assess your intention to use the temporary visa as requested. The government issues an F-1 visa to visitors coming for the purpose of studying at an American university. B-2 visas should be used for pleasure and medical visits. The officer will likely deny a visa if they believe you intend to use the visa in a way that is not permitted. This includes staying in the U.S. indefinitely. Several types of nonimmigrant visas require proof that the applicant:
Does not intend to permanently immigrate;
Has an unabandoned foreign residence; and
Will visit the United States temporarily.
What the Consular Officer Will Evaluate
Each nonimmigrant visa has different requirements, but the requirements of keeping a foreign residence and coming to the U.S. temporarily are very closely related. When a consular officer decides if a nonimmigrant visa will be issued, the officer considers these requirements and the factors that will encourage the applicant to return home as well as factors that may entice the applicant to stay in the U.S. The consular officer will consider:
Family and personal ties in each country;
Work and business ties and opportunities in each country;
Homes owned or leased in each country;
Property ties (e.g., car, other real estate, bank accounts, investments) in each country;
Social or cultural ties in each country;
Prior efforts to establish permanent residence in the U.S. and prior U.S. immigration violations; and
Whether the purpose of the U.S. visit is clear, credible, and is consistent with the desire to keep a principal home abroad.
These aren't rigid guidelines applied to every type of nonimmigrant visa. In fact, there are exceptions to the rules. For example, for an applicant applying for an F-1 student visa, there is some leniency. The U.S. government understands that the typical student is young, without employment, without family dependents, without substantial personal assets, and often without very specific plans for the future. Thus, consular officers will consider the "residence abroad" requirement for students in a broader light, and instead focus on the student applicant's short-term intent. A decision to grant an F-1 visa is therefore based on the applicant's immediate intent – not on what that intent might be in the future.
Types of Dual Intent Visas
A dual intent visa allows a foreign national to enter the United States as a nonimmigrant but retain the option to apply for a green card (permanent residence) in the future. There are some types of visas that simply don't fit the mold of a true nonimmigrant intent. Several visas inherently contain the possibility that the visitor will become a permanent resident in the U.S. Therefore, a dual intent doctrine was established.
K Visas for Fiancés and Spouses
The K-1 fiancé visa is used by a foreign fiancé to enter the U.S. and marry a U.S. citizen. The K-3 visa is used by the spouse of a U.S. citizen to enter the U.S. while waiting for a pending Form I-130 alien petition filed by the U.S. citizen spouse listing him/her as beneficiary. In each case, these are spouses (or future spouses) of U.S. citizens that will granted the privileges of immediate relatives. K-1 fiancés enter the U.S. as nonimmigrants but clearly have the intent to marry a U.S. citizen and generally immigrate to the U.S. Thus, the K-1 is known as a dual intent visa.
H-1B, L-1 and O-1 Dual Intent Visas for Employment
The H-1B, L-1 and O-1 employment visas are pure dual intent visas that give the holder nonimmigrant privileges and a clear path to a green card if there is a willing sponsor. Approval of labor certification or the filing of an immigrant visa petition does not preclude granting H-1B status, L-1, or O-1 status. To the contrary, it is to be expected. However, the consular officer must be satisfied that the applicant will depart the U.S. voluntarily when his or her authorized nonimmigrant stay expires if not granted a green card.
The E-2 treaty trader program was created to facilitate trade between the United States and the various countries with which the U.S. has trade agreements. The E-2 is a dual intent visa. However, immigration law prohibits E-2 nonimmigrants from applying through the adjustment of status process without waiving certain legal rights provided in the trade agreement. For this reason, anyone with an E-2 dual intent visa that wants to consider permanent residence should consult with an immigration attorney first.
Adjusting Status to Green Card Holder
An immigrant that wants to change from a nonimmigrant status to that of a permanent resident (green card holder) may be able to "adjust of status". Individuals who are eligible for a green card will file Form I-485, Application to Register Permanent Residence or Adjust Status.
Individuals who entered the United States on a dual intent visa may generally file Form I-485 without worrying about their intent at entry. The visa accommodates this possibility. However, visitors whose visa required a nonimmigrant intent must evaluate their situation.
The issue that emerges for a nonimmigrant without a dual intent visa is that by filing Form I-485, it brings into question whether or not the applicant had a "preconceived intent" at the time they were granted the nonimmigrant visa. It is plausible that the foreign national entered the U.S. with the intent to return to their home country but changed those plans during the course of the trip (perhaps due to a job prospect or romantic relationship). As long as the visitor entered the U.S. without a preconceived intent to stay permanently, it is possible to change their mind at a later date. For example, an F-1 student may fall in love and get married to a U.S. citizen. Or, while visiting their U.S. citizen daughter, the foreign national parents decide retiring in the U.S. near grandchildren is irresistible. But an immigrant cannot have the preconceived intent to enter the U.S. for a purpose different from that permitted under their nonimmigrant visa.
Visa Denial Due to 214(b)
If the consulate refuses (denies) a nonimmigrant visa under section 214(b), it means that you:
Did not sufficiently demonstrate to the consular officer that you qualify for the nonimmigrant visa category you applied for; and/or
Did not overcome the presumption of immigrant intent, required by law, by sufficiently demonstrating that you have strong ties to your home country that will compel you to leave the United States at the end of your temporary stay. (H-1B and L visa applicants, along with their spouse and any minor children, are excluded from this requirement.)
Again, ties are the various aspects of your life that bind you to your home country. Strong ties vary from country to country, city to city, and person to person, but examples include your employment, home, and/or your relationships with family and friends in that home country.
Unfortunately, you cannot appeal or overcome a visa denial or refusal under section 214(b). The refusal is for that specific application. Therefore, the consulate cannot take any further action once the case is closed. If you feel there is additional information to demonstrate you do not have immigrant intent or there are significant changes in your circumstances since your last application, you may reapply for a visa.
CitizenPath provides simple, affordable, step-by-step guidance through USCIS immigration applications. Individuals, attorneys and non-profits use the service on desktop or mobile device to prepare immigration forms accurately, avoiding costly delays. CitizenPath allows users to try the service for free and provides a 100% money-back guarantee that USCIS will approve the application or petition. We provide support for the Petition for Alien Relative (Form I-130), Affidavit of Support (Form I-864), and several other immigration services.
Want more immigration tips and how-to information for your family?
Sign up for CitizenPath's FREE immigration newsletter and
SAVE 10%
on our immigration services