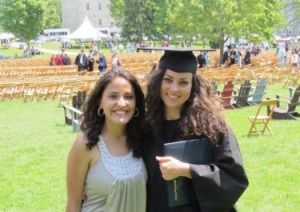 Despite politicians' failure to pass the DREAM Act at the federal level, the movement continues to gather momentum at the state level. With the recent passage of laws in Virginia and Florida, 20 states now offer in-state tuition to undocumented immigrant college students, also known as DREAMers. These policies are promising to improve the lives of undocumented students, and studies back it up.
Improving Education Before College
In addition to improving access to college, studies are showing that in-state tuition policies have other benefits. Research has indicated that adopting in-state tuition policy has even improved the odds that undocumented students will graduate. The policy can decrease the drop-out rate among non-citizens high school students by 7 to 10 percentage points. Another study authored by Robert Bozick and Trey Miller finds that Mexico-born non–U.S. citizen youth living in states that offer access to in-state tuition rates for undocumented youth are 65 percent more likely to be enrolled in school than their peers living in states with no explicit policy.
Unfinished Business
While there has been tremendous progress in just the past three years with regard to passing DREAM Act legislation at the state level, there is still much to be done. 30 states do not have policies that are friendly to undocumented student residents. This means that an undocumented immigrant resident who wants to go to a state college, university, or community college has to pay the much pricier out-of-state tuition rate. What's more, undocumented students, even with DACA, are ineligible for grants and scholarships at the federal level. This includes federal Pell grants, federally-backed loans and work-study positions. However many colleges, foundations, and local scholarship organizations provide scholarships for DREAMers and DACA grantees. Additionally, five states (CA, HI, NM, TX and WA) make state financial aid accessible to undocumented immigrant students.
In-State Tuition Eligibility Requirements
Eligibility requirements for undocumented students to qualify for in-state tuition. In general, students must live in state and attend high school for a specified period (1-4 years), and graduate or receive their GED. Students must be accepted to a public college or university, and must sign an affidavit stating their intention to file for legal immigration status.
States with DREAM Acts Providing In-State Tuition Benefits
States with Laws that Actively Bar In-State Tuition Benefits
States that have gone out of their way to bar undocumented immigrant students from in-state tuition benefits include Alabama (HB56, 2011), Arizona (Proposition 300, 2006), Georgia (SB 492, 2008), South Carolina (HB4400, 2008), and Indiana (H 1402, 2011).
Additional Resources
College Education for DREAMers
DREAMer Scholarships
DACA Resource Center
DACA Application (I-821D)