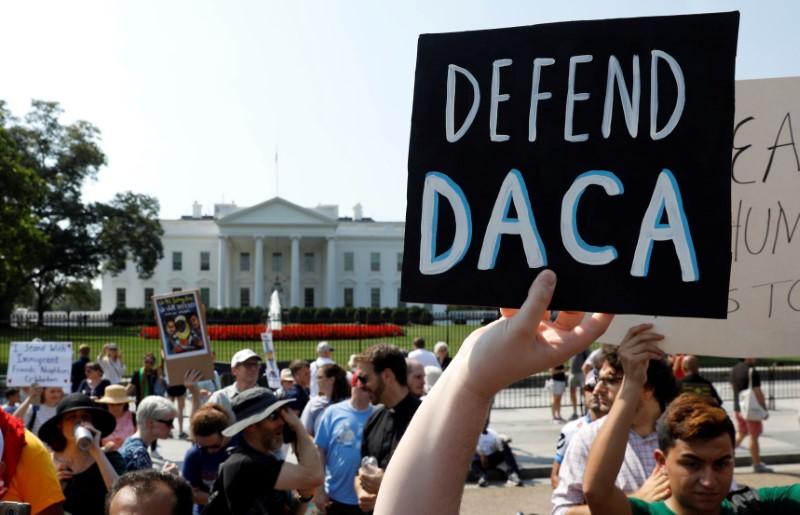 The tide seems to be shifting toward Dreamers. Although the Trump administration has repeatedly made attempts to derail the Deferred Action for Childhood Arrivals (DACA) program, it's not working. Since September 5, 2017, when President Trump tried to end the program, the Department of Homeland Security has refused to accept new applications. Plus, renewal applications were limited to one-year grants instead of two years as originally designed. The newest court ruling reversed all that. The court order means that eligible individuals may submit initial applications, and those with DACA status may renew for periods of two years (instead of one).
The DACA initiative is a temporary solution for individuals who were brought to the United States at a young age by their parents. It protects them against deportation and provides work authorization, but it doesn't grant a permanent immigration status. It's a lifeline created by the Obama administration until congress can provide laws that give Dreamers a path to a permanent immigration status.
Significance for Dreamers without DACA
An estimated 685,000 individuals are eligible for DACA status but have been unable to apply due to the Trump administration's policy. That's changed with the new court decision. U.S. Citizenship and Immigration Services (USCIS) must now accept first-time requests for consideration of deferred action under Deferred Action for Childhood Arrivals based on the terms of the DACA policy in effect prior to September 5, 2017, and in accordance with the Court's December 4, 2020, order.
That means you can now submit an initial DACA application if you're eligible. Individuals who meet the following criteria may submit a first-time application:
Are under 31 years of age as of June 15, 2012;
Came to the U.S. while under the age of 16;
Have continuously resided in the U.S. from June 15, 2007 to the present;
Entered the U.S. without inspection before June 15, 2012, or individuals whose lawful immigration status expired as of June 15, 2012;
Were physically present in the United States on June 15, 2012, and at the time of making the request for consideration of deferred action with USCIS;
Are currently in school, have graduated from high school, have obtained a GED, or have been honorably discharged from the Coast Guard or armed forces; and
Have not been convicted of a felony offense, a significant misdemeanor, or more than three misdemeanors and do not pose a threat to national security or public safety.
First-time applications can be challenging. Learn what's in a DACA application package and how CitizenPath can help.
Changes for Individuals with DACA Status
There are an estimated 650,000 individuals who currently have DACA status. The court order improves benefits for current recipients. Effective December 7, 2020, USCIS reversed their policy to the original state of the DACA program as introduced by the Obama/Biden administration. As such, USCIS is now accepting DACA renewal requests based on the terms of the DACA policy in effect prior to September 5, 2017, and in accordance with the Court's December 4, 2020, order.
As a current DACA recipient, you should know that USCIS is:
Extending one-year grants of deferred action under DACA to two years;
Extending one-year employment authorization documents under DACA to two years; and
Accepting applications for advance parole documents (see details).
Generally, you may request a renewal if you met the initial 2012 DACA guidelines and you:
Did not depart the United States on or after Aug. 15, 2012, without advance parole;
Have continuously resided in the United States since you submitted your most recent DACA request that was approved; and
Have not been convicted of a felony, a significant misdemeanor, or three or more misdemeanors, and do not otherwise pose a threat to national security or public safety.
Filing Fee
The DACA fee has been consistent for the last several years. The court order does nothing to change the fee. Initial applicants or DACA renewals both pay government fee of $495 when filing the application.
You can send payment as a check, money order, or credit card payment. To pay by Visa, MasterCard, American Express or Discover, fill out and submit Form G-1450, Authorization for Credit Card Transactions, with your application.
Travel Authorization
The court order also reinstates advance parole for DACA grantees. Certain individuals with DACA status may apply for an advance parole document. Advance parole makes it possible to travel outside the United States and return without losing DACA status. It's not available to everyone, and it's not for all travel purposes.
Advance parole is even a strategy for some DACA recipients that need a lawful entry in order to adjust status to permanent residents. Individuals who are otherwise eligible to apply for a green card inside the United States, such as through a U.S. citizen spouse, need to have a lawful entry. DACA recipients who initially entered without inspection are able to use advance parole in some cases to depart and then obtain an I-94 arrival/departure document, evidence of a lawful entry.
RECOMMENDED: DACA Green Card through Marriage
No matter your intent, it's best to consult with an immigration attorney before departing the United States with advance parole through DACA. Any time you spent in an unlawful status or even violations you didn't know about could come back to haunt you when you try to reenter. An immigration attorney can help you avoid these pitfalls.
RECOMMENDED: Traveling Abroad with Advance Parole for DACA
DACA Application Package
If this is your first time applying for DACA, it can be a little overwhelming. Even if you're a DACA veteran, you know it's critical to submit a carefully prepared application package to USCIS. To request consideration for DACA, most applicants will file the following items with USCIS:
Form I-821D, Consideration of Deferred Action for Childhood Arrivals
Form I-765, Application for Employment Authorization
Form I-765 Worksheet
$495 filing fee
Supporting documents
All three forms must be submitted together. Applicants will likely need to include additional documents and/or statements, depending how questions are answered in the DACA application. Detailed filing requirements can be found at USCIS.gov or by using CitizenPath to prepare your DACA application. CitizenPath's affordable online platform was designed by immigration attorneys to make DACA easy to prepare.
For initial applicants, documenting your eligibility can be challenging. CitizenPath's instructions will detail all the evidence you need, including examples of documents. Individuals, attorneys and non-profits use the CitizenPath service on desktop or mobile device to prepare immigration forms accurately, avoiding costly delays. CitizenPath allows users to try the service for free and provides a 100% money-back guarantee that USCIS will approve the DACA application. Learn more about CitizenPath's affordable DACA preparation service.
Future Paths to Legal Status for DACA Recipients
The Trump administration will likely continue attempts to dismantle DACA. If successful, Biden has committed to reinstating DACA once inaugurated as president. Of course, as anybody with DACA status knows, it isn't a permanent solution. It provides a temporary lawful status to remain in the U.S., but it isn't an immigration status.
Nobody knows what the future brings, but the Biden immigration plan includes provisions to help Dreamers.
If there is future legislation to help Dreamers, it's likely that those who have maintained their DACA status would get some preference. Therefore, keep your status current.
RECOMMENDED: 4 Paths to Legal Status for Undocumented Immigrants