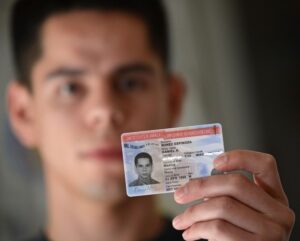 What Happens After Filing I-821D,
DACA Application
Putting your DACA application in the mail is a big moment, but then the waiting begins. You're probably anxious to know what happens after filing I-821D, Consideration of Deferred Action for Childhood Arrivals, along with the other forms (I-765 and I-765WS) required for DACA. We explain how long it will take to receive a new DACA grant and employment authorization card. Although the steps that take place are fairly consistent, the time frame can vary based on the USCIS case load, the USCIS office where you filed, and your ability to properly file an accurately prepared DACA package without errors or omissions.
The following list details the basic steps of the process for most people. There is an approximate amount of time provided. However, this time frame can vary.
Receipt of Application (1 week after filing)

If you file the optional Form G-1145 with the DACA application, you'll receive an e-notification when USCIS receives your application. USCIS will provide you with an e-mail or text to inform you that the application reached their office.

Tip: Filing Form G-1145 is optional and free. It is a simple form you can prepare for free on CitizenPath. You will automatically receive a pre-filled G-1145 when you prepare the DACA application on CitizenPath. Start G-1145.

Receipt of Application (2-3 weeks after filing)

If your Form I-821D has been properly filed along with Form I-765 and I-765WS, USCIS will respond by sending you a receipt notice that confirms they have accepted your application for processing. The receipt notice is formally known as Form I-797C, Notice of Action (see example below).

Tip: Save this important letter. It contains your 10-digit receipt number. You can use this receipt number to check the status of your case on the USCIS website. If you didn't receive a Notice of Action, you can make a Case Inquiry.

Appointment Notice for Biometrics (3-5 weeks after filing)

Next, you will receive an appointment notice that will include your biometrics appointment date, time and location. USCIS requires applicants to be fingerprinted for the purpose of conducting a criminal background check. Don't be alarmed — All applicants must have background checks.

Tip: If you didn't receive your biometrics appointment notice, you can make a Case Inquiry.

Biometrics Appointment (5-8 weeks after filing)

The biometrics appointment, also known as a biometrics screening, is generally a short appointment (15-30 minutes) so that USCIS can collect your fingerprints, photograph and signature. Your appointment notice will tell you what you need to bring. You will be required to bring photo identification. Typically, acceptable documents include:

Passport or national photo identification issued by your country
Driver's license
Military photo identification
State-issued photo identification card

Tip: If you think you might have a criminal record, contact an immigration lawyer before going to a biometrics appointment. Some crimes will make you ineligible for immigration benefits. A lawyer can request a background check before USCIS does and deal with it as necessary.

Form I-821D Adjudication (6-10 weeks after filing)

If everything goes well, your Form I-821D will be approved, and you will receive another I-797 letter to inform you in writing. USCIS does not begin processing Form I-765 until the I-821D is approved. If your application is denied, USCIS will mail you a notice explaining the reasons for the denial.

Tip: You must notify USCIS within 10 days if you change your address. To do so, file free Form AR-11, Alien's Change of Address. You also must call USCIS at 1-800-375-5283 to change the address with your pending DACA application.

Receive Your New Employment Authorization Card in the Mail (3-6 months after filing)

USCIS will process your application for employment authorization (I-765) after approving Form I-821D. The employment authorization card (work permit) will be mailed to you.

Tip: If you did not receive your card in the mail, you can make a Case Inquiry.
After filing the DACA application, the entire process can take anywhere from 3-6 months. This is an approximation. It may be shorter for some and longer for others. In some cases, USCIS will make a request for additional information or schedule an interview. Don't forget — you can check your case status online with your receipt number. The USCIS website also lists normal processing times. If you believe that your case is outside the normal processing times, you can make a Case Inquiry.
---