Lost Green Card Replacement Process
Steps for replacing a lost green card and getting temporary proof of status
Officially known as a Permanent Resident Card, your green card is physical proof of your right to live and work in the United States. It's also an essential document for re-entering the United States after a trip abroad, obtaining employment, getting a home loan, and even renewing a driver's license. In fact, you are legally required to carry proof of your permanent resident status with you if you are age 18 or older. Even after you've submitted the application for lost green card replacement, it will take 8 to 10 months! There is a solution to help you get temporary proof of your permanent resident status.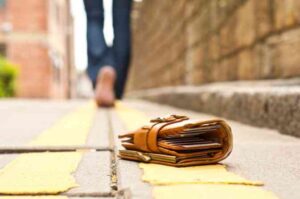 Form I-90, Application to Replace Permanent Resident Card
Lawful permanent residents use Form I-90, (Application to Replace Permanent Resident Card) to replace a lost or stolen green card. Each year, USCIS rejects or denies thousands of I-90 applications that don't satisfy the requirements. Therefore, it's important to get it right.
last year
I-90 forms were filed*
approximately
applications were rejected*
CitizenPath's self-directed service makes preparing USCIS forms easy. Designed by lawyers, our platform will help you eliminate the common errors that create delays, rejections and even denials. The affordable service also provides alerts if you answer a question in a way that might be a problem. We'll make sure you meet all the requirements before applying. We'll also give you instructions for obtaining a temporary green card.
The online service is a powerful, do-it-yourself tool that puts you in control. And we've got your back -- CitizenPath provides live customer support and guarantees that USCIS will approve your application.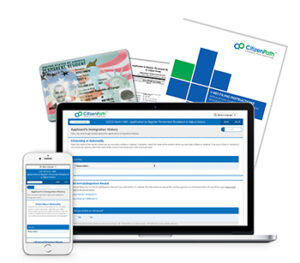 How to Obtain Temporary Proof of Permanent Residence
Form I-90 processing times
takes over 8 months. You may need more urgent proof of permanent resident status to travel abroad, renew a driver's license, get a new job, or apply for a mortgage. In these cases, you can get temporary proof. You will need a valid, unexpired passport from your home country. If yours is expired, you'll need to renew it through
your country's consulate in the United States
. Follow these steps to quickly get proof of permanent residence.
Prepare and File Form I-90
For lost green card replacement, you'll need to file Form I-90, Application to Replace Permanent Resident Card, and a $540 filing fee with USCIS. You may download the application directly from
USCIS.gov
and prepare it on your own. Or use
CitizenPath.com
. We provide a low-cost service that helps you prepare the application in about 15 minutes. The service helps to eliminate common I-90 errors, delays and rejections. We even guarantee USCIS approval.
When filing Form I-90, also submit Form G-1145. You'll receive a text or email notification within 24 hours of USCIS accepting your application. This notification contains your receipt number that you'll need for the next step. Note that "acceptance" happens after USCIS receives and reviews your application for completeness. So it may take several days to a couple of weeks when busy.
If you don't receive an electronic notification, USCIS will also mail you Form I-797, Notice of Action, approximately two weeks later. This "receipt letter" contains your receipt number.

Schedule a USCIS Appointment
Call USCIS at 1-800-375-5283 to make an appointment at the USCIS office near you. Stress the urgency of your situation. If you an urgent need to travel abroad, use your tickets as evidence. Get creative. If you have a sick relative, try to get a doctor's note or other evidence demonstrating the situation and urgent need to travel. Likewise, get a job offer letter if you need proof for employment. In the case of a home loan, take your mortgage company's requirements and evidence of the real estate purchase offer. You may need your paper receipt letter. Therefore, take it to the appointment if possible.
Some offices are very busy and appointments may not be convenient. Be flexible.
Attend USCIS Appointment for I-551 Stamp
Appear at your local USCIS office for the scheduled appointment. Be sure to take the following items to the appointment:
Valid, unexpired passport
Copy of most recent green card (if available)
InfoPass appointment notice (if available)
Form I-797 Notice of Action (I-90 receipt letter)
Evidence of urgent need (e.g. airline tickets/receipt, doctor's letter, job offer, mortgage documents, etc.)
With proof that you've started the lost green card replacement process and evidence of an urgent need, the USCIS officer can give you temporary proof of your status. The officer will generally add an
I-551 stamp
to your passport. Also called an Alien Documentation Identification and Telecommunication (ADIT) stamp, you may use the stamped passport just like a green card.
Frequently Asked Questions about Replacing a Lost Green Card