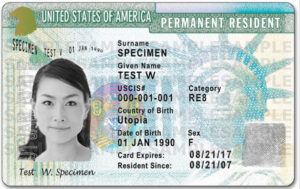 The U.S. State Department has disclosed that applicants of their 2015 green card lottery may have been provided with erroneous information. If you are an applicant, you are encouraged to re-check your status.
The green card lottery, formally known as the Electronic Diversity Visa program, is a program administered by the State Department that grants permanent residence (green cards) to up to 50,000 applicants from countries deemed to have low immigration rates to the United States. Countries with significant immigration rates to the U.S. (over 50,000 immigrants per year) are excluded from the program.
The 2015 Diversity Visa Program required applicants to register between October 1, 2013, and November 2, 2013, on the Electronic Diversity Visa website. Applicants for the 2015 program could begin checking the status of their entries on the same website starting May 1, 2014. Unfortunately, many entrants may have been provided incorrect information. The State Department posted a statement on its website:
"On May 1, 2014, the Entrance Status Check (ESC) website experienced a brief technical problem. As a result, some people who logged into the site to check the status of their Diversity Visa 2015 (DV-2015) entries were shown the wrong information. Applicants who logged into the ESC website on May 1 and saw a notice of selection that did not include their name, or saw a notice that they were not selected, must re-check their status. Applicants must see a notice addressed to them by name as proof of selection to process further in the DV-2015 program. We regret any confusion this technical problem may have caused."
There has been a history of mismanaging results by the State Department. Due to errors in the 2012 Diversity Visa program, applicants were incorrectly notified of the results. The results were later nullified and redrawn. A summary of the investigation can be found in a Memorandum Report from the State Department's Deputy Inspector General.
If you are interested in applying for the 2016 green card lottery, registration is anticipated to begin October 1, 2014. Check the Electronic Diversity Visa website for the most current information.
Additional Resources
Obtaining and Maintaining Your Green Card
Consular Processing vs Adjustment of Status
Family-Based Immigrant Visas