Form N-600 Processing Time
What Happens After Filing Form N-600, Application for Certificate of Citizenship
Submitting your Application for Certificate of Citizenship is a big moment, but then the waiting begins. You're probably anxious to know what happens after filing Form N-600, Application for Certificate of Citizenship, and how long it takes to receive the certificate. The N-600 processing time can vary.
Although the steps that take place are fairly consistent, the Form N-600 processing time will vary based on the USCIS case load, the USCIS office where you filed, and your ability to properly file an accurately prepared citizenship application package. The following outline describes the basic steps of the N-600 time line for most people.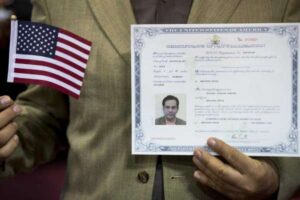 Receipt of Application
APPROXIMATELY 2 TO 3 WEEKS AFTER FILING
If you properly file
Form N-600, Application for Certificate of Citizenship
, USCIS will initially respond by mailing you a receipt notice that confirms receipt of your application. Formally known as Form I-797C, Notice of Action (see example below), the receipt notice typically arrives 2 to 3 weeks after filing. If you did not properly file your Form N-600, USCIS will send a Notice of Action to reject the application or may send a
Request for Evidence
that requests additional items. Either will significantly delay your request. Thus, it is vital to prepare the citizenship application package correctly and submit all required supporting documents.

Tip: Save this important letter. It contains your 10-digit receipt number. You can use this receipt number to check your case status. If you didn't receive a Notice of Action, you can make a case inquiry.
Nearly 9% of Form N-600 applications are rejected, and thousands more are denied. A poorly prepared application can also delay the approval process and even create significant immigration problems. When you prepare your N-600 on CitizenPath, we provide simple, step-by-step instructions and alerts to help you avoid costly delays. We even guarantee USCIS will approve your application. No credit card is required to try it.

Appointment Notice for Biometrics
APPROXIMATELY 3 TO 5 WEEKS AFTER FILING
Next, you will receive an appointment notice that assigns your biometrics appointment date, time and location. (The location will generally be the USCIS Application Support Center nearest you.) USCIS requires applicants to be fingerprinted for the purpose of conducting a security clearance and criminal background check. Don't be alarmed — most N-600 applicants must have background checks.
Tip: If you didn't receive your biometrics appointment notice, you can make a
case inquiry
.
Biometrics Appointment
APPROXIMATELY 5 TO 8 WEEKS AFTER FILING
The biometrics appointment, also known as a biometrics screening, is generally a short appointment (approximately 30 minutes) so that USCIS can collect your fingerprints, photograph and signature. Your appointment notice will tell you what you need to take to the appointment. Expect to take some form of government-issued photo identification to enter the building. USCIS can accept ID documents such as:
Passport or national photo identification issued by your country
Driver's license
Military photo identification
State-issued photo identification card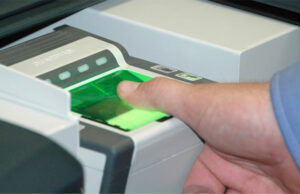 This is not an interview. The appointment's purpose is to collect your biometrics information only. Try to attend the appointment as scheduled. Rescheduling the biometrics will affect the N-600 processing time. To learn more about the appointment, read
USCIS biometrics appointment
.
Tip: If you think you might have a criminal record (even a DUI),
contact an immigration lawyer
before going to a biometrics appointment. Some crimes will make you ineligible for immigration benefits. A lawyer can request a background check before USCIS does and deal with it as necessary.
Appointment Notice for Interview
APPROXIMATELY 6 TO 10 MONTHS AFTER FILING
After completing the biometrics appointment, USCIS use the next several weeks to adjudicate your case. This is a lengthy process, but they will send another appointment notice for your N-600 citizenship interview. Make every attempt to attend the interview time as scheduled for you. Rescheduling an interview may add several months to the process to get your certificate.
The interview notice will arrive by mail as another Form I-797, Notice of Action. USCIS will schedule the N-600 interview at an office near you, and it probably will last less than 30 minutes.
Tip: You must notify USCIS if you change your address after filing your Form N-600. Call USCIS at 1-800-375-5283 to change the address on your pending N-600 application.
Citizenship Interview
APPROXIMATELY 8 TO 12 MONTHS AFTER FILING
At the interview, a USCIS officer will typically go through the entire N-600 application to confirm that the answers previously provided are still correct. It is best practice to take a copy of your application and all original supporting documents if possible. Remember, documents in foreign languages require a
certified translation
.
Generally, you must appear for the interview with your U.S. citizen parent if you are under 18 years of age. If you are 18 years of age or older, you may appear for your N-600 interview without your U.S. citizen parent.
Assuming that USCIS approves your Form N-600, you will likely be scheduled to take the Oath of Allegiance. In many cases, the Oath ceremony may be conducted on the same day as the interview. However, the USCIS office may have to schedule you for a later date. If you are under the age of 14, you may not be required to take the Oath of Allegiance. Upon approval of the N-600 application and taking the Oath (if applicable), USCIS will issue you a Certificate of Citizenship.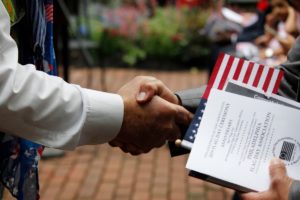 Tip: If USCIS denies your N-600, you may file an appeal (Form I-290B, Notice of Appeal or Motion), within 30 days of the date of the USCIS decision. If the time for appeal has expired, you may not file another Form N-600. In both situations, we recommend the
assistance of an immigration attorney
.
Receive Your Certificate of Citizenship
APPROXIMATELY 9 TO 14 MONTHS AFTER FILING
Once approved, USCIS will mail your Certificate of Citizenship. Make sure you use a reliable mail address on the application. Your certificate is proof of U.S. citizenship and can be used to apply for a U.S. passport.
Tip: Carefully review your Certificate of Citizenship and notify USCIS of any corrections to your certificate.
---
Form N-600 Processing Time Summary
HOW LONG DOES IT TAKE TO GET A CERTIFICATE OF CITIZENSHIP?
After filing Form N-600, Application for Certificate of Citizenship, your N-600 processing time can take anywhere from 9 to 14 months. This is an approximation. It may be shorter for some and longer for others. In some cases, USCIS will make a request for additional information or even schedule an additional interview. Don't forget — you can
check your case status online
with your receipt number. The USCIS website also lists
normal processing times
. If you believe that your case is outside the normal processing times, you can make a
case inquiry
.