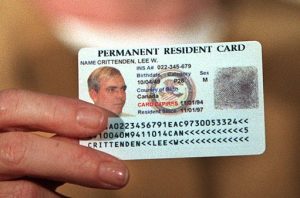 With 8 pages of questions (and another 13 pages of instructions), filling out the green card renewal form can be an intimidating process for many applicants. Officially known as Form I-90, Application to Replace Permanent Resident Card, the green card renewal form can be prepared by most permanent residents without extensive help from an attorney. If you have a straight forward case, you can do it yourself.
If you're ready to tackle the green card renewal form by yourself, go the website for U.S. Citizenship and Immigration Services (USCIS) at www.uscis.gov/i-90/ to download the Form I-90 and filing instructions. Although there is a $540 government filing fee, there is no fee to obtain the application.
Applicants that want some extra support and reassurance that they're doing everything correctly can use CitizenPath.com, a low-cost, online service that helps permanent residents fill out the green card renewal form. It's free to try, and costs hundreds less than a lawyer. When you complete the Form I-90, you'll receive the neatly prepared official Form I-90 that's ready to sign. You'll also get some simplified filing instructions so you know what to include with your Form I-90 application and where to mail it. Try it now.
Part 1: Information About You
Part 1 of the green card renewal form is mostly general information, but it can create a problem if not prepared correctly. Pay close attention to the questions that ask your name. USCIS asks for variations of your name. It is important that you provide all versions of your name to avoid confusion and maintain consistency with other legal documents.
Your Full Name
Your full name is your current legal name. Generally, it's the name on your birth certificate unless it has been changed after birth by a legal action such as a marriage or court order.
Name on the Permanent Resident Card
If Your Full Name (as explained above) is different than the name that's printed on your green card, you'll need to write the name that is printed on your green card. Enter your name exactly as it appears on your card (even if your name has changed or your name is misspelled). When you file Form I-90, you'll need to include evidence (such as a birth certificate, divorce decree, or other legal name change document) that proves you changed your name.
Address
As a permanent resident of the United States, you have chosen to live permanently in the U.S. If USCIS believes that your true home is not the United States, you may be found to have abandoned your status if you. In fact, some of the ways that your permanent residence can be abandoned include:
Moving to another country, intending to live there permanently.
Remaining outside of the United States for an extended period of time, unless you intended this to be a temporary absence, as shown by:

The reason for your trip;
how long you intended to be absent from the United States;
any other circumstances of your absence; and
any events that may have prolonged your absence.

declare yourself a "nonimmigrant" on your U.S. tax returns.
It's highly unusual for a lawful permanent resident to have a foreign address. Generally, this is limited to permanent residents in commuter status filling out the green card renewal form.
Class of Admission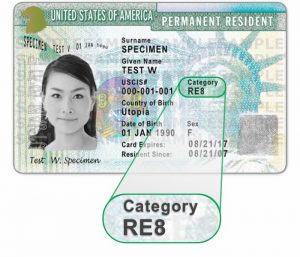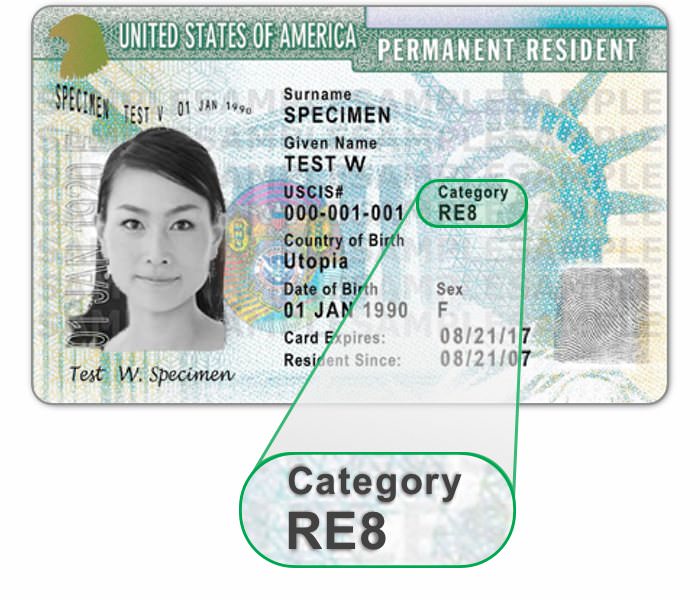 Class of admission describes the immigrant category that was used to admit you to the United States as a permanent resident or conditional permanent resident. On most green cards, you can find the code on the front side of the card under "Category." It is typically one or two letters followed by a number. For example, "RE8" is the class of admission on the green card below.
Part 2: Application Type
When filling out the green card renewal form, Part 2 is one of the most important sections because it explains the reason you are filing Form I-90. Most people will select the status of Lawful Permanent Resident. In fact, conditional permanent residents should never use Form I-90 to renew a green card. They can only use the form to replace a lost, stolen, or destroyed card.
Reason for Application
As an applicant that is renewing an expiring or expired card, you will mark "My existing card has already expired or will expire within six months." If two or more of the reasons apply to your situation, you should only select one box. For example, if your green card has expired and you subsequently lost it, the most appropriate selection is "My previous card has been lost, stolen, or destroyed."
Part 3: Processing Information
Part 3 of the green card renewal form can cause the most confusion for many applicants. It's helpful to know if you obtained your green card through consular processing or adjustment of status. If you obtained your green card (immigrant visa) through consular processing, you'll need to name the U.S. embassy or consulate where you applied and where the status was granted. (Even if you received your green card in the mail once relocated to the U.S., the status was most likely granted through the embassy or consulate.) Likewise, if you obtained your green card through the adjustment of status process, you'll need to name the U.S. office (by city and state) where you applied and where the status was granted.
Removal Proceedings
Exclusion, deportation, and removal proceedings are similar terms to describe a situation that you must appear before an immigration judge and your immigration status is being challenged. As such, the U.S. government is putting you in a legal process to remove you from the United States.
"Ordered removed" has a very specific meaning. You have only been "ordered removed" if one or more of the following happened to you:
A judge ordered you deported or removed.
You signed a stipulated removal order.
You were apprehended at a border or international port of entry and immigration officials decided to complete Expedited Removal paperwork on you. (This is different than simply being refused entry.)
Note: You have not been "ordered removed" if you have one of the following immigrant visa (class of admission) categories: Z11, Z13, Z14 and Z15. These visa categories are based on a "suspension of deportation" or "suspension of removal." This is different than being ordered removed.
If there is a possibility that you have ever been in exclusion, deportation, or removal proceedings, CitizenPath recommends that you contact an immigration attorney before continuing.
Part 4: Accommodations for Individuals with Disabilities and/or Impairments
Don't let your disability or impairment be an obstacle to the green card renewal process. USCIS will make reasonable accommodations at your appointments. You just need to ask. Therefore, if you need assistance with a wheelchair, sign language or anything else, use Part 4 of the green card renewal form to describe the impairment and need.

Before Filling Out the Green Card Renewal Form
This is a summary overview on filling out the green card renewal form. More detailed instructions are available from USCIS or CitizenPath's I-90 preparation service. Those with more complicated cases, criminal backgrounds or a history of other immigration violations are encouraged to consult with an immigration lawyer before attempting to file Form I-90.
About CitizenPath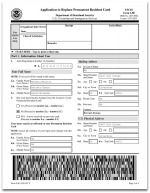 CitizenPath provides simple, affordable, step-by-step guidance through USCIS immigration applications. Individuals, attorneys and non-profits use the service on desktop or mobile device to prepare immigration forms accurately, avoiding costly delays. CitizenPath allows users to try the service for free and provides a 100% money-back guarantee that USCIS will accept the application or petition. We provide support for Green Card Renewal (Form I-90), the Citizenship Application (Form N-400), and several other popular forms.