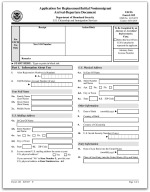 If you have a lost, stolen, mutilated, or destroyed Form I-94, Arrival/Departure Record, it is possible to replace it. Before you start, it's helpful to know if you have an electronic I-94 or a paper I-94. Knowing this will help determine how to replace an I-94 form.
Replacing an electronic I-94 is a simple matter. Replacing paper I-94 records can take several months and generally require a filing fee.
Replace an Electronic I-94 Record
Modern I-94 Arrival/Departure Records are available electronically if the foreign national traveled by air or sea. An electronic I-94 can be obtained by going to the CBP I-94 website.
"Replacing" an electronic I-94 form is easy and free. Simply return to the CBP I-94 website and enter the necessary information to lookup your I-94. You may print the electronic I-94 for when submitting with USCIS applications.
RECOMMENDED: How to Find an Electronic I-94 Record
Replace a Paper I-94 Record
Before CBP issued I-94 records electronically, they provided a paper form to foreign nationals arriving to the United States. In fact, CBP will still provide a paper Form I-94 at land border ports of entry and to certain classes of aliens, such as refugees, certain asylees and parolees, and whenever Customs and Border Protection (CBP) determines that issuance of a paper form is appropriate.
Replacing a paper I-94 form is a little more complicated. You will need to file a Form I-102, Application for Replacement/Initial Nonimmigrant Arrival-Departure Document. File the form with USCIS along with a $445 filing fee (at the time of writing this) and supporting documentation.
Incorrect I-94
Occasionally, immigration officials issue I-94 records with incorrect information. If you name is incorrect or an entry date is wrong, this can lead to confusion. Do not file Form I-102 to replace an I-94 form that is incorrect. Instead, following this procedure to fix your incorrect I-94.
RECOMMENDED: Fix an Incorrect I-94 Record