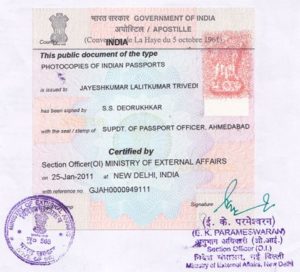 A "late registered" birth certificate is generally a certificate of birth created at a significantly later date than the birth of the child. In some countries, registering a child's birth may not have been standard practice many years ago.
Likewise, it may be very difficult for some rural families to travel to the nearest government office for the purpose of recording the birth. If the birth is registered many years later, it is considered a delayed or late registered birth certificate.
USCIS Acceptance of Late Registered Birth Certificates
If you only have a birth certificate that was registered many years after the birth, USCIS will generally accept the document. However, you may have to provide additional evidence that the birth happened as recorded. In other words, you may need other proof that the persons listed as parents are in fact the parents of the child. Additionally, the date of the birth may need corroborated.
Before using the late registered birth certificate with a USCIS application or petition, you'll need to do some homework to determine if USCIS will be satisfied. For example, if birth certificates generally were not available to people born in the same region and time as you, USCIS is more likely to accept a late registered birth certificate. On the other hand, if birth certificates were typically available, USCIS will want more evidence. USCIS will refer to the U.S. Department of State's visa reciprocity tables. You can do the same thing.
Generally, submitting secondary evidence with your late registered birth certificate is recommended. USCIS typically wants more evidence. You can keep your application or petition on a faster track by submitting secondary evidence at the initial filing. You may wait for USCIS to make a determination and issue a Request for Evidence (RFE). However, this will always add a significant delay to your case.
Mistakes on your I-130 can cause costly delays or a denial.
Prepare your I-130 petition correctly and affordably with CitizenPath. The attorney-reviewed software guides you through the petition and provides help to answer questions like this one. And personalized filing instructions help you to file your petition today knowing that
you did everything right
! No credit card or signup required to get started.
Try it before you buy it >>
Secondary Evidence
If you do not have a document that meets the birth certificate requirements, you should anticipate the additional requirement to submit alternative evidence of birth. Submit this secondary evidence with the late registered birth certificate.
Likewise, USCIS may have responded with a RFE if you submitted a late registered birth certificate with an application. It is critical that you respond to the RFE in the timeframe specified. You'll need to produce secondary evidence of the birth.
Your evidence should corroborate the information on the birth certificate (if you have one). Submit as much evidence as possible. There are a variety of documents you may use as evidence of the birth. It may include, but is not limited to:
RECOMMENDED: Birth Certificate Requirements for a Green Card
Religious Documents
Examples include birth or baptismal certificates, or other notable religious documents. Religious documents must:
Show the name of the parent(s);
Bear an authorizing signature;
Display the official stamp or seal of a religious body such as a church, mosque, temple or synagogue; and
Show the date and place of the commemorative occasion.
Early School Records
You may use school records, preferably from the first school attended, showing:
The date of admission;
The child's name and place of birth; and
Name(s) of the child's parent(s).
Medical Records
If you have a hospital birth record or hospital admittance records that name the parent(s) and child, these can be used as evidence.
Census Records
State or federal census records showing the subject's name and place of birth, and date of birth or age of each person listed.
Affidavits
Affidavits may be submitted in the absence of the secondary evidence listed above or in addition to the secondary evidence. An affidavits is essentially a sworn statements from an individual who has direct knowledge of the birth. Typically, they will be family members who were present near the time of the birth or were living at the time of the birth and can offer personal knowledge.
RECOMMENDED: Sample Affidavit of Birth