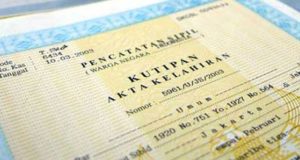 Evidence of birth is essential for most adjustment of status and immigrant visa applications, the two processing paths for a green card. Although there are exceptions for asylees and refugees, applicants generally must submit a foreign birth certificate (if available) with Form I-485, Application to Register Permanent Residence or Adjust Status or the DS-260. However, some governments or local civil authorities in certain countries didn't issue official birth certificates at the time of your birth. In these cases, it's still vital to submit alternative evidence of birth with your green card application. Here's how.
Birth Certificate Requirements
U.S. Citizenship and Immigration Services (USCIS) and Department of State have specific requirements with respect to the format and content of birth certificates. Birth certificates that do not meet these specifications may not be adequate to satisfy the evidence of birth requirement. Generally, an acceptable birth certificate must be issued by the appropriate local government agency or civil authority, be in full-form (and not an excerpt or short-form), and contain the all of following information about the applicant and his or her parents:
Full name at birth
Date of birth
Place of birth
Full name of both parents
Name of issuing government body
Date of issuance
Seal or other certification
If your birth certificate does not meet these requirements, you may also need to obtain additional evidence of your birth. You may be able to use a birth affidavit.
RECOMMENDED: Sample Affidavit of Birth
When filing Form I-485, you may submit a photocopy of an original or certified copy of your birth certificate. However, we highly recommend that you take an original or certified copy of the birth certificate to the adjustment of status interview. The immigration officer may request to see it at that time.
Mistakes on your I-485 application can cause costly delays or a denial.
Prepare your I-485 correctly and affordably with CitizenPath. The attorney-reviewed software guides you through the application and provides help to answer questions like this one. And personalized filing instructions help you to file your application today knowing that
you did everything right
! No credit card or signup required to get started.
Try it before you buy it >>
Birth Certificate Not Available
If your birth certificate is unavailable or does not exist, you must prove its unavailability or nonexistence and provide acceptable alternative evidence of birth.
Check for Availability of Birth Certificates

First, check with the Department of State to see if birth certificates are known to be unavailable or nonexistent in your country of birth. Click the button below to start your search.

If this web page shows that birth certificates from your country of birth are generally unavailable or nonexistent, you do not need to do anything to prove that your birth certificate is unavailable or nonexistent. Skip to Step 3.

Get a Certificate of Non-availability

If the State Department website does not show that birth certificates from your country of birth are generally unavailable or nonexistent, you must submit a certificate of non-availability. These letters must be:

An original written statement from a civil authority on official government letterhead;
Establish the nonexistence or unavailability of the document;
Indicate the reason the record does not exist; and
Indicate whether similar records for the time and place are available.

You'll need to submit this original document along with alternative evidence of birth. Continue to Step 3.

Provide Alternative Evidence of Birth

When your birth certificate is not available or does not exist, you must submit other acceptable evidence relating to the facts of your birth, such as religious or school records, hospital or medical records, affidavits of birth, or similar evidence. Some examples include but are not limited to a baptismal certificate, school registration with birth date, and census records. (The State Department website mentioned above may provide additional insight on acceptable documents generally available in your country.) If submitting only affidavits of birth (and no other alternative evidence), submit at least two affidavits of birth with Form I-485.

For detailed information on having family members write an affidavit, view Affidavit of Birth for Adjustment of Status.
RECOMMENDED: USCIS Acceptance of Late Registered Birth Certificates