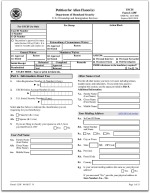 Once U.S. Citizenship and Immigration Services (USCIS) approves Form I-129F, Petition for Alien Fiancé, it is valid for a period of four months. This period of validity is different than the term of the K-1 visa. Once the U.S. embassy or consulate grants a K-1 visa, you must use it within a limited time period as well.
For this reason, good planning for travel and the wedding are extremely important. If you've missed a deadline, you don't necessarily need to start over. There are things you can do to extend the validity period.
Form I-129F Validity
The I-129F petition is valid for a period of four months from the date USCIS approves it. Therefore, it is important that you respond to the National Visa Center and your local U.S. embassy within the deadlines provided by each. During this time, you'll need to provide additional documents to support the K-1 visa application.
If you and your fiancé are unable to make the necessary arrangements within the four-month period, you may be able to request an extension. A consular officer can extend the validity of the petition if it expires before visa processing is completed.
Update: COVID-19 forced the closure of U.S. embassies and consulates. For most cases impacted by the suspension of routine visa services or COVID-19 travel restrictions, it is not necessary to file a new I-129F petition. Generally, consular officers are automatically revalidating the I-129F petition in four month increments.
RECOMMENDED: K-1 Visa Time Line
Mistakes on your I-129F petition can cause costly delays or a denial.
Prepare Form I-129F, Petition for Alien Fiancé, correctly and affordably with CitizenPath. The attorney-reviewed software guides you through the petition and provides help to answer questions like this one. And personalized filing instructions help you to file your petition today knowing that
you did everything right
! No credit card or signup required to get started.
Try it before you buy it >>
Deadline to Enter the United States
Once the U.S. embassy or consular office issues a K-1 visa, the engaged couple needs to make arrangements for the foreign national fiancé to come to the United States for marriage. The foreign national may use the K-1 visa to enter the U.S. one time. It is a single-use visa that is generally valid for a period of six months from the date of issuance. Check your visa. Some K-1 visas may be issued with a shorter validity period.
Since these arrangements involve a wedding and, in most cases, a permanent move to the U.S., planning can be time-consuming. During this six-month period, the couple should try to secure plane tickets and the necessary arrangements for the foreign fiancé to enter the United States.
Deadline for Marriage
Once the K-1 fiancé enters the United States, he or she has no more than 90 days to marry. As a general rule, the foreign national spouse should also try to file an adjustment of status application (Form I-485) before the 90 days expires. However, K-1 entrants may file Form I-485 after 90 days provided they have met all other requirements. If the foreign national does not marry or decides not to apply for a green card through adjustment of status, he or she must depart the U.S. before the K-1 expires.
RECOMMENDED: Adjustment of Status Through a K-1 Visa Entry