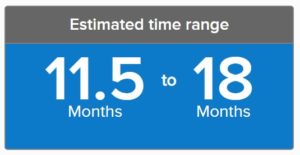 U.S. Citizenship and Immigration Services (USCIS) indicates it's taking many N-400 applicants at least a year to become U.S. citizens. This is the time it takes USCIS to process your case from the date they receive it. However, there are a couple of factors that affect processing times most significantly. How long it takes you to become a U.S. citizen depends on how well you've prepared your application and where you live. CitizenPath customers typically report shorter times ranging from 8 to 14 months.
Factors That Affect N-400 Processing Time
USCIS Workload
There is typically a backlog of cases that each USCIS office is working on. If the office that is processing your case has a heavy workload, processing times could be extended. Some offices are just busier than others. Unfortunately, this is something that the applicant can't control.
Preparation of Application Package
You do have control over the preparation of your Form N-400, Application for Naturalization, and supporting documents. Filling out the application completely and accurately helps ensure that your case won't be delayed. It's also imperative that you include the correct supporting documents. You can find complete instructions on the USCIS website. CitizenPath was designed by immigration attorneys to make this process simple. Use the online software to avoid common mistakes that cause delays and rejections. You'll also get filing instructions that have been customized to your answers. You'll know exactly what to submit with your application and where to mail it. Get started for free >>
Steps in the Process to Become a US Citizen
For most applicants, there are three significant appointments during the naturalization process that help determine how long it takes to become a U.S. citizen.
Biometrics Appointment – USCIS will schedule a biometrics appointment approximately 2 to 3 months after you file Form N-400.
Citizenship Interview and Test Appointment – Several months later, USCIS will schedule an interview where you'll also be given a civics and English test.
Oath Ceremony – After passing the citizenship interview and test, you'll need to attend the oath ceremony to officially become a U.S. citizen and receive your naturalization certificate.
For a more detailed look at what happens after filing the citizenship application, check out N-400 processing times.
Did you know minor mistakes on your Form N-400 application can cause costly delays and rejections?
Prepare your N-400 quickly and correctly with CitizenPath. The attorney-reviewed software guides you through the application and provides help to answer questions like this one. And personalized filing instructions help you to file your application today knowing that
you did everything right
! No credit card or signup required to try it.
Get started now >>
When to Submit a Case Inquiry
It's natural to be a little anxious while waiting through the citizenship process. While you're waiting, you may want to start preparing for the citizenship test and interview. But how long is too long? There is a way to determine if you're outside of the normal processing time.
First, you'll need to find the I-797C, Notice of Action that arrived approximately two weeks after filing Form N-400. This document is also known as the receipt notice. You'll need to obtain information from this letter to follow up on your case:
Go to USCIS Processing Times
Select Form: N-400 | Application for Naturalization
Select your local office (usually printed in the lower left of your receipt notice)
Click "Get processing time"
Check the "receipt date for a case inquiry" from the website and compare it to the receipt date on your receipt notice.
If your receipt date is before the "Receipt date for a case inquiry", you can submit an "outside normal processing time" service request online.