The Form I-131A fee for Form I-131A, Application for Travel Document (Carrier Documentation), is $575. There is no biometric services fee. Check USCIS for the most current fees or use CitizenPath to get step-by-step filing instructions.
Mistakes on your I-131A application can cause costly delays or a denial.
Prepare your I-131A correctly and affordably with CitizenPath. The attorney-reviewed software guides you through the application and provides help to answer questions like this one. And personalized filing instructions help you to file your application today knowing that
you did everything right
! No credit card or signup required to try it.
Get started now >>
Paying the Form I-131A Fee
Pay the filing fee for Form I-131A online using a credit or debit card or U.S. bank account through the USCIS online payment system. You cannot pay this fee with a check or money order. Also, no fee waiver is available for this form.
However, anyone can pay the fee from anywhere in the world. The person paying the fee must pay through the online payment system reference above. It's extremely important that the person paying the fee enters the correct first and last names, date of birth, and A Number as they appear on the permanent resident's green card or reentry permit.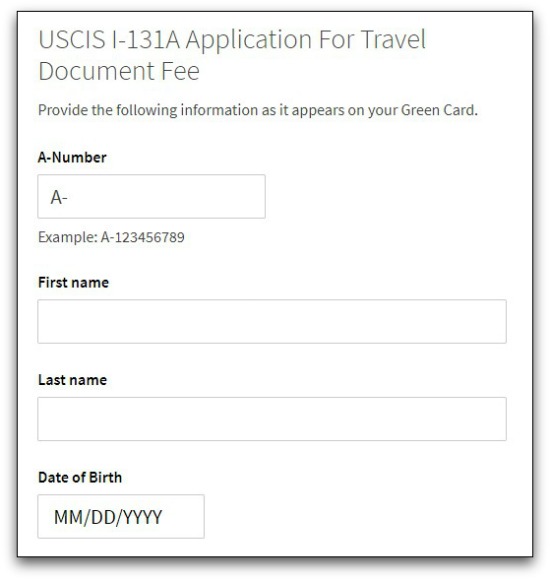 Evidence of Paying I-131A Fee
Unlike other USCIS forms, you must pay the Form I-131A fee prior to submitting Form I-131A and the supporting documentation. You must take evidence that you paid the fee when you appear in person at a U.S. embassy or U.S. consulate to file Form I-131A. Examples of evidence include a copy of the payment confirmation page or a copy of the email payment receipt notice. If you receive an error message when paying the fee, you should contact USCIS with the error message for assistance. Call the USCIS Contact Center at 800-375-5283.