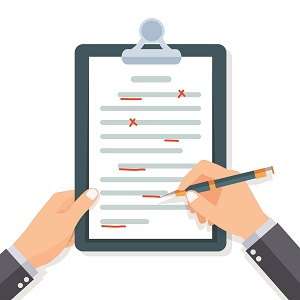 If you have an incorrect I-94 record, there is generally a way to fix it. A misspelled name or incorrect entry date may lead to confusion on other applications. Both Customs and Border Protection (CBP) and U.S. Citizenship and Immigration Services (USCIS) may issue a Form I-94, Arrival/Departure Record. If a mistake was made by you or the government, you'll need to correct it.
This article will explain how to correct an error on your Form I-94 issued by CBP or USCIS.
RECOMMENDED: How to Find an Electronic I-94 Record
Correct an I-94 Issued by CBP
If Customs and Border Protection (CBP) issued your I-94 record, you'll need to visit the CBP Deferred Inspection Office closest to your location. Most foreign nationals receive an I-94 from CBP at the time of entry in one of the following ways.
Electronic I-94: Issued to the vast majority of foreign national visitors at air and sea ports of entry.
Paper I-94: Issued at land border ports of entry and to certain classes of aliens, such as refugees, certain asylees and parolees, and whenever CBP determines that issuance of a paper form is appropriate.
Sometimes CBP may issue an incorrect I-94. Common errors include incorrect entry dates or misspelled names. In many cases, these errors can easily be corrected. If you arrived at an airport, you can generally contact the CBP office inside the airport and request a correction.
When the airport does not have a CBP office, contact the closest CBP Deferred Inspection Site or call CBP at 1-877-CBP-5511 (1-877-227-5511). You may be required to visit the office with documentation (passport and visa) and your incorrect I-94 record.
Did you know minor mistakes on your Form I-485 application can cause costly delays and rejections?
Prepare your I-485 quickly and correctly with CitizenPath. The attorney-reviewed software guides you through the application and provides help to answer questions like this one. And personalized filing instructions help you to file your application today knowing that
you did everything right
! No credit card or signup required to try it.
Get started now >>
Correct an I-94 Issued by USCIS
In some cases, USCIS issues a Form I-94 as part of granting a foreign national an extension of stay or change of status. If USCIS issued your Form I-94, you will need to file a Form I-102, Application for Replacement/Initial Nonimmigrant Arrival-Departure Document.
When filing Form I-102 due to an incorrect I-94 record, you will need to submit a filing fee and supporting documentation that provides proof of the correct information. Attach a statement dated and signed by you, explaining specifically what information on your I-94 record is incorrect. You must also attach evidence verifying the validity of the information submitted for correction purposes. Finally, you must submit your original, incorrect I-94 with the I-102 application.
If the mistake on your Form I-94 record is due to a USCIS error, you'll need to request a correct I-94 through an Infopass appointment at your local USCIS office. Schedule an appointment by calling 1-800-375-5283. Take your original, incorrect I-94 record and evidence of the error to your appointment. USCIS will correct the I-94 at no cost. If you are unable to prove that the mistake was made by USCIS, you will be advised to file Form I-102 with a fee.
RECOMMENDED: Replace an I-94 Record