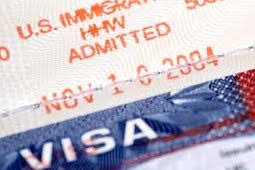 Many foreign nationals with immediate family in the United States assume that they can visit the U.S. with a non-immigrant visa and then file Form I-485, Application to Adjust Status, upon arrival. That simply isn't the case for most non-immigrant visitors. This act potentially violates the terms of the visa and could create long-term immigration problems. There are only a few non-immigrant visa types which accommodate a preconceived intent to adjust status to permanent resident.
Non-immigrant Intent
When applying for most non-immigrant visas, the foreign national makes a promise to the U.S. government that he/she will return to the home country after the purpose of the visa has been fulfilled. The visa is tied to a specific short-term purpose. Examples of short-term activities are tourism, business, education, and some employment. Non-immigrant intent means that the visa holder does not plan (and is not authorized) to stay permanently in the United States.
For a B-2 visa, the purpose is leisure travel. For an F-1 visa, the purpose is studying in the United States. Both must depart before the stated Admit Until Date or the purpose of the visa is complete (whichever comes first).
Common Visa Types That Do Not Permit Immigrant Intent:
B, F, J, M, Q, TN and visa waiver program visitors
 
In fact, there is a presumption of immigrant intent in U.S. immigration law. There is a burden of proof for non-immigrant visa applicants to show they have sufficient ties to their home country that will compel them to leave the U.S. after the temporary stay. Many visitors may have had to provide evidence of ties to their home country in the visa interview.
Bottom line, most non-immigrant visa types (and visa waiver program visitors) are not allowed to come to the United States with the intent to adjust status to permanent resident.
Exceptions
This isn't to say that everyone with a non-immigrant visa will be denied an adjustment of status to permanent resident. There are exceptions and immigration officers do have discretion to make a decision in each case.
There are certain types of non-immigrant visas with a dual intent. They allow the foreign national to enter the U.S. on a temporary basis but retain the option to adjust status to a permanent resident at some point in the future. One of the most common is the K-1 visa. K-1 fiancés may enter the U.S. for the purpose of marrying the U.S. citizen who sponsored the K-1. The K-1 may then adjust status within 90 days of entering.
Common Visa Types That Allow Immigrant Intent:
E, H, K, L, O and P visas
 
For other non-immigrant visa holders, they may have arrived in the U.S. with every intent to return home but circumstances changed. A tourist might fall in love with an American and decide to have an impromptu wedding. A visiting parent may have fallen ill and decide that staying in the U.S. under the care of a son or daughter is important. There are legitimate reasons for changing one's intentions during the trip. There was no preconceived intent to adjust status, but life introduced new circumstances that changed intentions.
90-Day Rule
Immigration officers do have guidelines to make these judgement calls. The U.S. Department of State uses a 90-day rule that presumes visa abuse if one of these visa holders attempts to change status within 90 days of entering the United States. Therefore, many attorneys advise their clients not to file Form I-485 less than 90 days after arriving in the United States. Although immediate relatives of U.S. citizens are generally exempt, it is still a good guideline when filing Form I-485.
RECOMMENDED: 90-Day Rule and Adjusting Status
Did you know minor mistakes on your Form I-485 application can cause costly delays and rejections?
Prepare your I-485 quickly and correctly with CitizenPath. The attorney-reviewed software guides you through the application and provides help to answer questions like this one. And personalized filing instructions help you to file your application today knowing that
you did everything right
! No credit card or signup required to try it.
Get started now >>
Consequences of Preconceived Intent
Before entering the the United States through a port of entry, a Customs and Border Protection (CBP) officer will typically inspect a foreign national upon arrival. One of the first questions will likely be, "what is the purpose of your trip to the United States?" CBP officers are trained to detect visa abuse. There will be increased scrutiny if they know that the foreign visitor has a spouse in the United States. If the CBP officer believes the visitor is lying, the visitor could be placed into expedited removal (deportation) proceedings and then barred from the U.S. for three years.
Even if the foreign national successfully enters the United States, there are additional dangers when filing Form I-485. USCIS officials can review the entry to determine that it was consistent with the terms of the non-immigrant visa. During the application process or adjustment of status interview, the foreign national may unknowingly disclose information that puts them in jeopardy. If the USCIS officer comes to the conclusion that there was fraud or misrepresentation, they will deny the I-485 application. But that's not the worst of it.
Misrepresentation is a permanent bar. In other words, this foreign national may never be able to immigrate to the United States in the future.
[contentblock id=kb_inline_ad]
Adjustment of Status Examples
The following hypothetical scenarios provide examples of cases in which the foreign national entered the United States on a non-immigrant visa but is still eligible to adjust status.
Example 1
A British national is visiting friends in the United States through the Visa Waiver Program. During her trip she meets an American, and they spontaneously decide to get married. She entered the U.S. with the intent to spend time with friends. She had no preconceived intent to get married and immigrate, so she has not violated the terms of the VWP.
Example 2
A Chinese national enters the United States on a B-2 visa to see her daughter and grandchildren. During the visit, her health deteriorates, and her daughter convinces her to stay in the United States. They decide to file an adjustment of status application so that she can stay in the U.S. with the daughter's family. There was no preformed immigrant intent when the Chinese national entered.
Example 3
An Indian national comes to the U.S. to study through an F-1 visa. During the course of his studies, he meets a U.S. citizen, and they eventually fall in love. After his graduation, the terms of his student visa require that he return to India. The couple decides to get married so that he can adjust status to permanent resident. In this example, the Indian national always used his visa properly, and didn't plan to immigrate when entering the U.S.
The foreign national did not have preconceived intent in each of these examples. In other words, they did not seek permanent residency until after coming to the United States. Their circumstances changed during the course of the visit.