Get a Social Security Number with DACA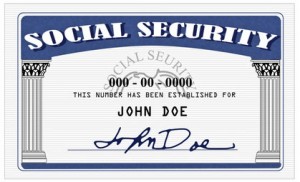 If you have been granted Deferred Action for Childhood Arrivals (DACA) and have received your Employment Authorization Card from USCIS, you can apply for a Social Security number. You need a Social Security number to get a job, collect Social Security benefits and get some other government services. In most states it is also a necessary form of identification for obtaining a driver license. With your DACA grant, getting a Social Security number is easy. Here's how:
Find a Local Social Security Office

You must visit a Social Security office in person to file an application for a Social Security number. Find your local office on the Social Security website. You can download and print a copy of the application (Form SS-5) early, but you will need to go to an office to file it.

Take Required Documents

You will need to take your Employment Authorization Card (work permit) and additional proof of age and identity to the Social Security office. You must show an original document or a certified copy of one of the following as proof of your age and identity:

Foreign birth certificate
Foreign passport
U.S. military record
U.S. military identification card
Religious record showing age or date of birth
U.S. driver license
U.S. state-issued identification card
School record showing age or date of birth
School identification card
Copy of medical record

Get a Copy of Your New SSN

The Social Security representative should be able to generate a new number during your visit. Ask for a printout showing your new Social Security number. Although your card will take 1-4 weeks to be processed and mailed to you, the printout will serve as tangible proof of your new number.

Provide Your Social Security Number to Necessary Parties

Rescind you Individual Tax Identification Number (ITIN) and update your tax records (if applicable). You cannot have both an ITIN and SSN simultaneously. If you have an ITIN, write to the Internal Revenue Service (IRS) and request that your ITIN be rescinded and that your tax records be associated with your new SSN. Here is a template letter.
Provide your SSN to your employer. If you currently have a job, complete a new W-4 which will update your SSN and is used to determine how much will be deducted from your paycheck for taxes. Submit the completed W-4 to your employer.
Provide your new SSN to financial institutions that you use and request that it be applied to your accounts. For bank accounts, you should be able to make the change at your local branch. For credit card companies, call the customer service line to ask about the process.
---