How to Replace or Renew a Green Card
Steps for renewing an expired green card or replacing it
Your green card, officially known as a permanent resident card, is proof that you are a lawful permanent resident. Your immigration benefits include permission to live and accept employment in the United States. By losing your green card or letting it expire, you do not surrender these rights. You continue to be a permanent resident. However, traveling abroad or even getting a job can be extremely difficult (if not impossible) without a valid green card. You'll want to replace or renew a green card as quickly as possible. Use Form I-90, Application to Replace Permanent Resident Card.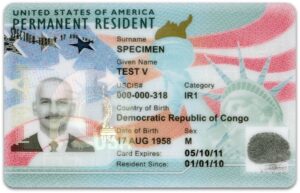 Steps to Replace or Renew a Green Card
Form I-90 processing times
can take over 8 months. You may need more urgent proof of permanent resident status to travel abroad, renew a driver's license, get a new job, or apply for a mortgage. In these cases, you can get temporary proof. You will need a valid, unexpired passport from your home country. If yours is expired, you'll need to renew it through
your country's consulate in the United States
. Follow these steps to quickly get proof of permanent residence.
Reasons to Replace or Renew a Green Card
First, determine your need. If you have a green card that is expiring within six months or has already expired, you should file immediately. Likewise, if you need to replace your card, file as soon as possible. It will take several months to receive a new green card. Some legitimate reasons that you might need to request a new green card include:
Your card was lost, stolen or destroyed
Your card was issued but never received
Your card was mutilated
Your card has incorrect data
Your name or other biographic information has been legally changed
You have reached your 14th birthday and are registering as required
Your card is expiring within 6 months or has already expired
Tip: If you are a conditional permanent resident based on a marriage to a U.S. citizen, do not use I-90 to renew a green card. You must file Form I-751, Petition to Remove the Conditions on Residence.
Prepare Form I-90, Application to Replace Permanent Resident Card
There are two ways that you can prepare Form I-90.
First, you may access Form I-90 from the USCIS website. You will also need to review the 13-page instructions from the same page. Although there is a USCIS filing fee when you submit Form I-90, there is no cost to obtain the form. Many people can prepare the form by themselves. However, mistakes and omissions can result in costly delays or even denials. USCIS denies about 50,000 applications a year, and denials are on the rise.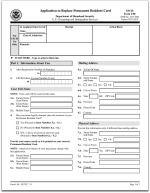 Alternatively, you may prepare the application on CitizenPath.com. Our simple, step-by-step instructions guide you through the form. If there's a problem, CitizenPath will alert you. Upon answering the questions on CitizenPath, we will provide you a ready-to-sign copy of the application. In addition to your prepared form, CitizenPath provides you with a set of personalized filing instructions. Our filing instructions are customized to your answers in the application so you know what to do for your specific situation. The filing instructions provide detailed directions on supporting documents, how to organize your application, and where to mail it.
CitizenPath was created by immigration attorneys, and we guarantee that USCIS will approve your Form I-90. Get started for free. You won't have to pay until you are completely finished.
Tip: It only takes about 15 minutes to renew a green card on CitizenPath.com. If you don't finish, you can can save your progress and resume later.
Gather Documents and Mail with Form I-90
You will also need to gather specific documents and your payment to submit with Form I-90. If you downloaded the form from USCIS, be sure to download the instructions as well. The instructions will detail the documents that should accompany your green card replacement. If you use CitizenPath, the filing instructions will provide a simple check list of documents for you to include. Regardless of which method you use, you will generally need to send in the USCIS filing fee as well.
Tip: Mail your I-90 application via certified mail and save your receipt.
Receive Your Receipt Notice
Approximately 2 to 3 weeks after filing Form I-90, USCIS will mail you Form I-797C, Notice of Action. This "receipt notice" is an important document. It's proof that USCIS has accepted your Form I-90 application. It is also a 24-month month extension of the validity of the green card. Present the receipt notice with an expired green card as evidence of continued status. You'll be able to use the letter and expired card as valid green card for activities such as accepting U.S. employment or re-enter the United States.
The receipt notice also contains a receipt number. You can use the receipt number to track your case status on the USCIS website.
Tip: If you file Form G-1145 at the same time as Form I-90, USCIS will notify you via email or text within 24 hours of accepting Form I-90. You'll receive this optional form if preparing your I-90 through CitizenPath.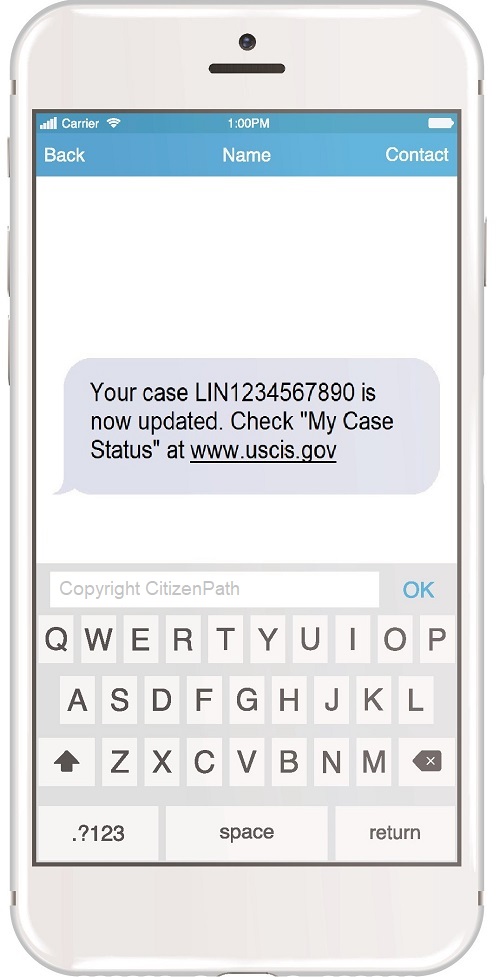 Attend Your Biometrics Appointment
Although you may travel during the renewal/replacement process, it is very important that you attend your biometrics appointment. Approximately 3 to 5 weeks after filing Form I-90, USCIS will mail you an appointment notice to attend a biometrics appointment at an Application Support Center near you. Take your appointment letter and any other items listed in the letter (especially some form of photo identification). The biometrics appointment includes of fingerprinting and taking your photo for your green card.
Tip: Attend your biometrics appointment as scheduled if possible. Although you may generally reschedule it if necessary, any reschedule will delay your case and delivery of the new green card.
Receive Your New Green Card
Generally, there is no interview after filing Form I-90. Unless you have picked up a criminal offense or other complications since receiving your initial green card, your new card should arrive in the mail. If you do have a criminal record or immigration violations, please contact an experienced immigration attorney before filing.
The entire process generally takes 8 to 10 months. For the best results, make sure you've prepared Form I-90 accurately and have included all of the necessary items when you file.
Tip: Upon receiving your new green card, make a photocopy of both sides. Keep this photocopy in a safe place. If you ever lose your green card, you'll have a photocopy that will make it easier to prepare Form I-90 with the correct information.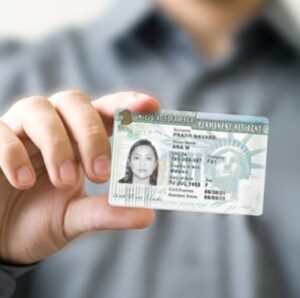 Form I-90, Application to Replace Permanent Resident Card
Lawful permanent residents use Form I-90, (Application to Replace Permanent Resident Card) to renew a green card or replace a lost/stolen card. Each year, USCIS rejects or denies thousands of I-90 applications that don't satisfy the requirements. Therefore, it's important to get it right.
last year
I-90 forms were filed*
approximately
applications were rejected*
CitizenPath's online service makes preparing USCIS forms easy. Designed by immigration lawyers, our Green Card Renewal/Replacement Package helps you eliminate the common errors that create delays, rejections and denials. It's an affordable service that provides alerts if you answer a question in a way that might be a problem. We'll make sure you meet all the requirements before applying, and we'll also give you instructions for obtaining a temporary green card.
The online service is a powerful, do-it-yourself tool that puts you in control. And we've got your back -- CitizenPath provides live customer support and guarantees that USCIS will approve your application.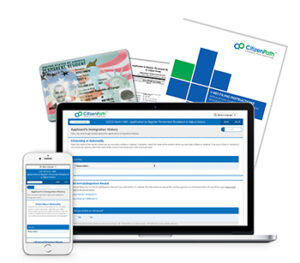 Green Card Renewal/Replacement FAQs