The permanent resident card, commonly known as a green card, is proof that its holder is a lawful permanent resident that has been granted immigration benefits, which include permission to live and accept employment in the United States. Permanent resident card renewal is a necessary part of being a permanent resident. If your card expires, you do not surrender these rights. You continue to be a permanent resident. However, traveling abroad or even getting a job can be extremely difficult without a permanent resident card. There are several problems associated with an expired green card.
Step 1: Preparing for Permanent Resident Card Renewal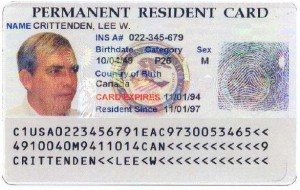 You may apply for permanent resident card renewal up to six months before your card expires. It will take a few months to receive your new green card, so USCIS recommends that you renew your green card as early as possible. Use Form I-90, Application to Replace Permanent Resident Card to renew your permanent resident card.
The vast majority of people do not need a lawyer to get a permanent resident card renewal. However, you should consult with an immigration attorney before you begin if you've been arrested, have spent significant time outside the country (more than 6 months), or have other immigration violations..
Tip: You may also use Form I-90 to replace a permanent resident card because it is lost/stolen, damaged, never received, or contains incorrect information.
Step 2: Prepare Form I-90 for Permanent Resident Card Renewal
There are two ways that you can prepare Form I-90.
By yourself — Download Form I-90 and the 13-page instructions from the USCIS website. Carefully read the instructions to ensure that you properly prepare the Form I-90. Incomplete or improperly prepared applications will be rejected by USCIS. In some cases these oversights can create long-term immigration problems.
CitizenPath — Prepare Form I-90 online at CitizenPath.com. CitizenPath is a low-cost service that provides step-by-step instructions through Form I-90 and delivers alerts if there are problems. Upon completing the form, CitizenPath will provide you a copy to print and simple filing instructions customized for your situation. No sign up or credit card is required to try it out.
Step 3: Gather Documents and Mail with I-90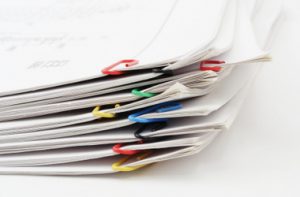 You will also need to gather specific documents to submit with the filing fee and Form I-90. If you downloaded the form from USCIS, be sure to download the instructions as well. The instructions will detail the documents that should accompany your permanent resident card renewal. If you use CitizenPath, our simplified filing instructions will provide a simple easy list of documents for you to include. Regardless of which method you use, you will need to send in a USCIS filing fee for permanent resident card renewal.
Tip: Mail your I-90 application via certified mail and save your receipt.
Step 4: Save Your Records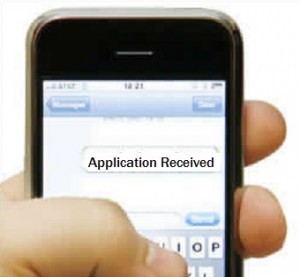 Within approximately 2-3 weeks USCIS will mail you Form I-797C, Notice of Action. Save this important document. It's a receipt letter and proof that you successfully filed your permanent resident card renewal application.
The receipt letter will also include a receipt number that you can use to track the progress of your case. Read [What Happens After Filing Form I-90](https://citizenpath.com/what-happens-after-filing-i-90-permanent-resident-card/) to learn more about each step until your get your new permanent resident card.
Tip: If you file G-1145 at the same time as Form I-90, USCIS will give you status updates via email or text. When you prepare your I-90 through CitizenPath, we will also provide the G-1145 for free.
Step 5: Attend your Biometrics Appointment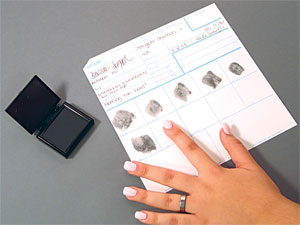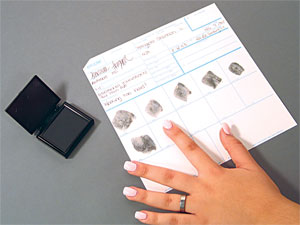 Approximately 3-5 weeks after filing the permanent resident card renewal, USCIS will automatically schedule you for a biometrics appointment. The biometrics appointment consists of fingerprinting and taking your photo for your permanent resident card.
Bring your appointment letter with you in addition to some form of photo identification. Read the letter carefully; it will explain all items that you should bring to the appointment. Although this appointment can be rescheduled, it will delay the permanent resident card renewal process.
Tip: If your permanent resident card already expired and you need proof of permanent residency, schedule a separate appointment with USCIS. They can provide an "I-551 stamp" in your passport to give you proof of valid permanent resident status. The stamp will enable you to re-enter the U.S. after traveling abroad. (Make a separate appointment – USCIS cannot provide this stamp at your biometrics appointment.)
Step 6: Receive your New Permanent Resident Card
Unless you had errors or other complications on your permanent resident card renewal application, most people receive their new card in approximately 3-4 months. But but processing times do vary based on the workload and USCIS service center assigned your case. Your new permanent resident card will look slightly different and will be updated with several new security features.
Tip: Processing times can vary. Enter your receipt number (from your I-797) at My Case Status to check the status of your permanent resident card renewal.
Get started on Form I-90 for permanent resident card renewal.

Avoid the Renewal — Become a U.S. Citizen
Apply for U.S. citizenship and never apply for permanent resident card renewal again. There are numerous benefits to becoming a U.S. citizen. It might be easier than you think. Not sure if you're elibible? Check your eligibility for U.S. citizenship here.
About CitizenPath
CitizenPath makes preparing a permanent resident card renewal easy. The online service provides simple, step-by-step guidance through USCIS applications and petitions. We even provide alerts if your answer to a question could be a problem. And CitizenPath guarantees that USCIS will accept your application. CitizenPath provides support for the Permanent Resident Card Renewal (Form I-90), Citizenship Application (Form N-400), and several other popular forms.