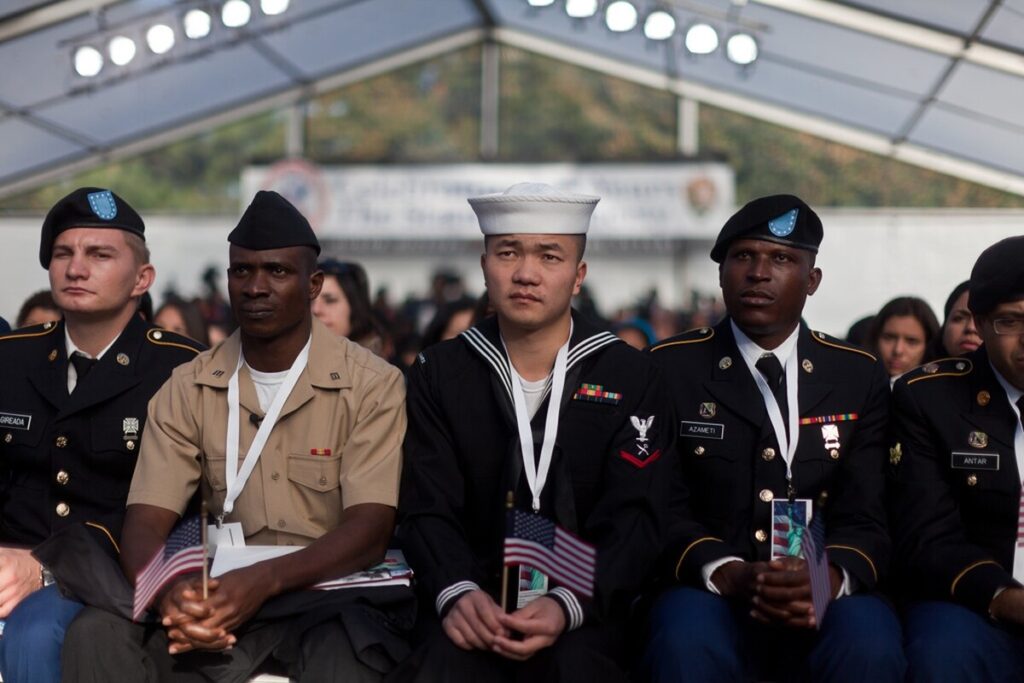 On this Veterans Day, CitizenPath recognizes the contributions of the more than 500,000 foreign-born veterans who live in the United States. Immigrants have served in the U.S. armed forces since the Revolutionary War, fighting for the birth of America. They've continued to fight in every major conflict throughout our history. Too many sacrificed their lives in the Civil War, both World Wars, and conflicts like those in Vietnam, Afghanistan and Iraq.
In the current pollical environment, there are some who lay concern that immigrants don't do their fair share. In fact, immigrants are as ready as American born natives to support the nation's defense and even give their lives for the greater goodwill of their country.
Immigrants in the Military by the Numbers
Immigrants' contributions to the U.S. armed forces have been nothing short of extraordinary. Approximately 7,000 green card holders enlist each year and approximately 40,000 immigrants are actively serving today. In fact, immigrants make up more than 20 percent of Congressional Medal of Honor recipients.
Despite their service, several U.S. veterans have actually been deported. It would seem impossible that the U.S. government could overlook its own soldiers. But several dozen veterans would like to come home.
RECOMMENDED: Deported Veterans
Contributions to Military Technology
What's more, immigrants were responsible for developing key technologies used by the American military. Igor Sikorsky, a Russian American immigrant, is credited with the invention of the helicopter. John Holland, an Irish American immigrant, designed the first known military submarine. Perhaps the most famous scientist ever, Albert Einstein left Germany and aided the Allied victory in World War I. But even modern-day immigrants like Sergey Brin (Google) and Elon Musk (Tesla and SpaceX) have made technology advancements that propel the U.S. advantage in future conflicts.
Quotes from Immigrant Veterans
Here's what some honorable immigrant veterans had to say about their service:
"Dear America, I am an Arab American, but a proud American just like you (…) On that dreadful day, September 11th, my duffel bag was already packed and I was waiting to answer the call of duty. Why was I ready? I also want a better and safer America just like you. When it comes to patriotism and loyalty, I am red, white and blue, just like you."
Sergeant Mahmoud El-Yousef in an open letter to American news outlets, February 2007
---
"You who have been born in America, I wish I could make you understand what it is like [to] not be an American – [to] not have been an American all your life — and then, suddenly, with the words of a man in flowing robes to be one, for that moment and forever after. One moment you belong with your fathers to a million dead yesterdays — the next you belong with America to a million unborn tomorrows."
George Magar Mardikian, an Armenian-born naturalized American citizen who was awarded the Medal of Freedom by President Harry S Truman for his contributions to his adopted country
---
"I was once asked by a reporter why as a non-citizen of the United States, I volunteered to join the military and serve in Vietnam. I answered, 'I was always an American in my heart."
Alfred Rascón, Congressional Medal of Honor recipient
---
"I choose the citizenship because I believe what the Americans believe, their value system, their freedoms."
Army Chaplain Jin Hee Chang, a native of South Korea
---
"…I felt I had an obligation to serve the country that helped give my family a new life. It was my way of thanking America."
U.S. Marine Corps Sergeant Jamal S. Baadani, a native of Egypt and founder of the Association of Patriotic Arab Americans
Quotes about Immigrant Veterans
"I have witnessed time and again the bravery and valor of soldiers defending a country that they consider their adopted home. They are grateful for the opportunities the United States provides, and we are grateful for their sacrifices."
Secretary Colin Powell in a letter to Congress in July 2006
---
"They are willing to fight for a country that they weren't even citizens of. I wish all Americans felt that way about their country."
Captain Kirk Thorsteinson during a naturalization ceremony in Kuwait, June 2007
---
"When you enlisted into the armed forces you swore to support and defend a Constitution that did not yet fully apply to you. You chose to endure the same sacrifices as your fellow comrades in arms to preserve the freedom of a land that was not yet fully yours. You accepted that you might have to pay the ultimate price on behalf of a nation to which you did not fully belong. Now, you will officially become citizens of the United States, a country to which each of you has already borne true faith and allegiance in your hearts and your deeds."
General David Petraeus addressing a naturalization ceremony for 161 at Camp Victory, Iraq, on Independence Day, 2007
---
"If we do not provide the same opportunities for future immigrants that were provided for our forefathers, it is an affront to our national ideals. We owe these servicemen more for the sacrifices that they have made for this country."
Senator John McCain addressing the U.S. Senate's Committee on Armed Services in July 2006
RECOMMENDED: Immigration Quotes from Great Americans
About CitizenPath
CitizenPath provides simple, affordable, step-by-step guidance through USCIS immigration applications. Individuals, attorneys and non-profits use the service on desktop or mobile device to prepare immigration forms accurately, avoiding costly delays. CitizenPath allows users to try the service for free and provides a 100% money-back guarantee that USCIS will approve the application or petition. We provide support for Adjustment of Status (Form I-485), the Citizenship Application (Form N-400), Green Card Renewal (Form I-90), and several other immigration services.