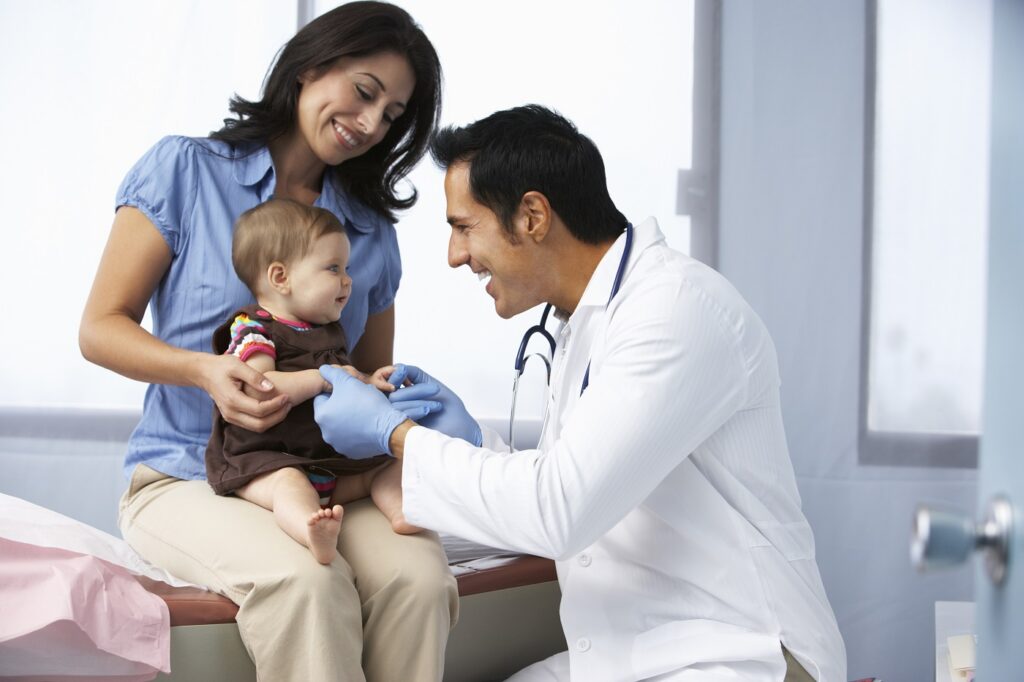 Affordable health insurance options are available for immigrant families. Whether you've recently arrived in the United States or are a long-term permanent resident, the U.S. health insurance market has options for you. In fact, the choices are largely the same as for U.S.-born insured. Unfortunately, 17% of lawfully present, non-citizen immigrants are uninsured according to a recent study. That's almost twice the rate of uninsured U.S. citizens.
The United States offers some of the highest quality healthcare in the world, but that quality comes at a price. Health insurance is a way to manage the cost of healthcare, keeping it more affordable. Health insurance companies collect premiums and pay out eligible benefits. They help families pay for preventive care like routine check-ups and treatment for illness and injury.
Many employers will help pay the cost of healthcare through their group insurance. Other families, particularly self-employed, must seek their own individual health insurance. There are a wide range of plans and choices.
RECOMMENDED: Welcome to the United States: Now What About Health Insurance?
Immigrant Eligibility for Healthcare Insurance
Lawfully Present Immigrants
For lawfully present immigrants, eligibility should not be an obstacle for obtaining health insurance. Immigrant families many options when it comes to selecting health insurance. In fact, virtually all immigrants who are lawfully present (or have become U.S. citizens) are eligible for coverage. Immigrants with the following statuses qualify for healthcare insurance in the United States:
Lawful permanent residents (green card holders)
Asylees and refugees
Cuban/Haitian entrants
Paroled into the United States
Conditional entrants granted before 1980
Battered spouses, children and parents
Victims of trafficking and their spouse, child, sibling or parent
Granted withholding of deportation or withholding of removal, under the immigration laws or under the Convention against Torture (CAT)
Individuals with nonimmigrant status, including employment visas (such as H1, H-2A, H-2B), student visas, U visas, T visas, and other visas
Temporary Protected Status (TPS)
Deferred Enforced Departure (DED)
Deferred action status (except DACA)
Lawful temporary residents
Administrative order staying removal issued by the Department of Homeland Security
Members of a federally-recognized Indian tribe or American Indian Born in Canada
Residents of American Samoa and citizens of Micronesia, the Marshall Islands, and Palau
Additionally, certain applicants for immigration benefits may also be eligible to apply for healthcare insurance. The distinction here is that U.S. Citizenship and Immigration Services (USCIS) has not granted the immigration benefit yet. Applicants for Temporary Protected Status with an EAD, Special Immigrant Juvenile Status, Victim of Trafficking Visa, Adjustment of Status, and those applying for asylum status (with an EAD or certain minors).
Immigrants Not Lawfully Present
Generally, any individuals unlawfully present (including DACA) are not eligible to purchase health insurance and are not eligible for any federal public benefits, except:
Emergency medical treatment under Medicaid, if the individual otherwise meets the eligibility requirements and the medical condition is not related to an organ transplant procedure
Immunizations for immunizable diseases and testing for and treatment of symptoms of communicable diseases (does not include assistance from Medicaid)
Major Health Insurance Options
When selecting health insurance, there are three basic options for your family:
Affordable Care Act (ACA) Insurance

Also known as "Obamacare," ACA insurance is the highly-publicized category that covers most families in the U.S. The law defines minimum standards for all ACA healthcare plans. For example, this major medical insurance can't exclude you because of preexisting conditions and must offer certain health benefits (like preventative care, maternity care, and prescription coverage). You can't be turned down. For low income families, tax credits and subsidies may help with the cost.

Short Term Health Insurance

Short term medical insurance is sometimes called term medical insurance or temporary medical insurance. It's designed to provide healthcare coverage during a limited series of months where you don't have other healthcare coverage. Short term health insurance may be a good solution if you need to protect your family for a short period until your situation changes.

Medicare

If you're 65 or older, or are under 65 with a qualifying disability or condition, you are eligible for comprehensive medical insurance through Medicare.
When to Enroll
Generally, you can only sign up in a health insurance plan during the "open enrollment period." This is a short period at the end of each year that you can enroll in a new plan. The open enrollment period for 2019 starts November 1, 2018, and ends on December 15, 2018.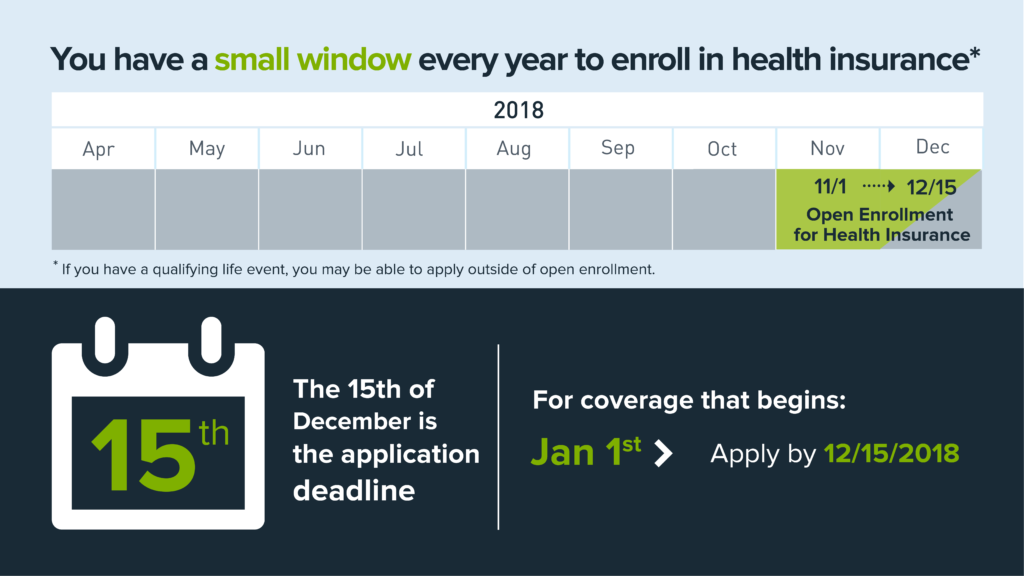 Luckily, there are exceptions for people with specific situations. If you've experienced a qualifying life event, you may be able to sign up during a Special Enrollment Period. A qualifying life event triggers a 60-day time frame that allows you to apply for a health insurance plan and ensure that your application is approved. A recent move to the United States or becoming a U.S. citizen count as qualifying events. In fact, any of the following life events could make you eligible for a special enrollment period:
Loss of health coverage

Losing existing health coverage, including job-based, individual, and student plans counts as a qualifying event. This also includes losing eligibility for Medicare, Medicaid, or CHIP. Individuals that reach the age of 26 and lose coverage through a parent's plan may also enroll.

Changes in household

If you got married in the past 60 days or a divorce forced you to lose coverage, you are likely eligible to enroll outside the normal open enrollment period. Newborn babies and adopted children may also be enrolled. Finally, you qualify if someone on your plan dies and as a result you're no longer eligible for your current health plan.

Changes in residence

For anybody that has recently immigrated to the United States, this qualifying life event makes you eligible to enroll in a health care plan outside the standard enrollment period. It also includes people that have moved to a different ZIP code or county.

Other qualifying events

Becoming a U.S. citizen, leaving incarceration (jail or prison), and changes in your income that affect the coverage you qualify for are all qualifying events. If you feel you have a qualifying event that is not listed here, contact your agent or provider to determine eligibility.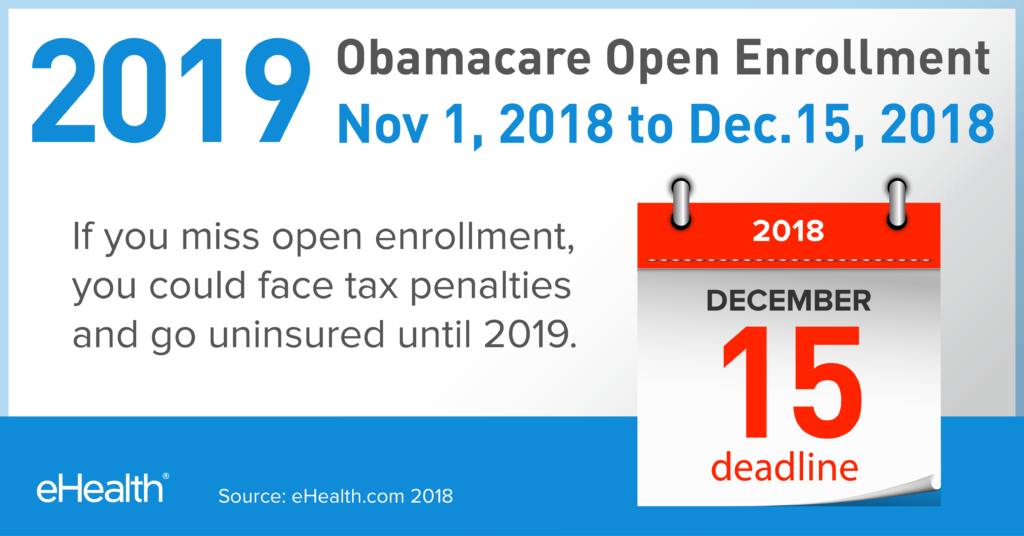 How to Enroll
Health insurance rules, options, and enrollment guidelines can be overwhelming for anybody. Government exchange navigators will help you understand plans on a government exchange like healthcare.gov. But they can't help you with all the other plans not available on a government exchange. There are a variety of private healthcare plans not available on government exchanges.
That's why CitizenPath has partnered with eHealth.com. Licensed agents from eHealth can help you understand all plans and recommend a plan based on your individual needs. They can even help you determine your eligibility for subsidies and help you apply for these reduced rate options.
Use's eHealth's online comparison tools or call to speak to a licensed agent to help you shop for the right insurance plan.
Affiliate Disclosure: We partner with certain advertisers who serve the immigrant community to bring you information about their services. This post contains information and links from an affiliate advertiser.
About CitizenPath
CitizenPath provides simple, affordable, step-by-step guidance through USCIS immigration applications. Individuals, attorneys and non-profits use the service on desktop or mobile device to prepare immigration forms accurately, avoiding costly delays. CitizenPath allows users to try the service for free and provides a 100% money-back guarantee that USCIS will approve the application or petition. We provide support for the Adjustment of Status Application (Form I-485), Petition to Help a Relative Obtain a Green Card (Form I-130), and several other USCIS forms.