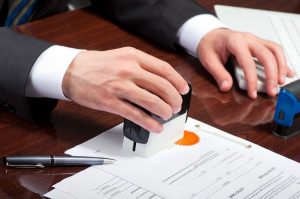 When you use Form G-639, Freedom of Information/Privacy Act (FOIA) Request, to make a request for information, U.S. Citizenship and Immigration Services (USCIS) has an obligation to ensure the Subject of Record is willing to share that information with you. Confirming one's identity helps ensure the privacy of that person. (Even if you are requesting your own records, USCIS needs to confirm your identity.)
Subject of Record Signs Form G-639
If you request records about yourself (you are the Subject of Record), USCIS requires you to verify your identity by providing your full name, your current address, your date of birth, and your place of birth in Item Numbers 1.a. – 4. Likewise, if you request records about another individual and on behalf of that individual (someone else is the Subject of Record), USCIS requires you to provide a statement from the individual verifying his or her identity, as well as certifying the individual's agreement that USCIS may release his or her records to you. Again, you can fulfill these requirements by completing Item Numbers 1.a. – 4.
USCIS requires that the Subject of Record consents to sharing information. The Subject of Record must sign Form G-639 and must either have the signature notarized or submitted under penalty of perjury. On Form G-639, Item Number 8 provides two options:
Notarized Affidavit
Sworn Declaration Under Penalty of Perjury
RECOMMENDED: How to Get a Copy of Your Immigration File
Prepare your G-639 FOIA request quickly and correctly with CitizenPath.
The attorney-reviewed software guides you through the official USCIS form to ensure a properly prepared G-639. Personalized filing instructions help you to file Form G-639 today knowing that
you did everything right
! No credit card or signup required to try it.
Get started now >>
Sign G-639 with Notarized Affidavit
A Notarized Affidavit is a type of verified statement made by the subject and witnessed by a notary public. It's a sworn statement of fact that has legal consequences if ever found to be untrue.
Sign G-639 with Sworn Declaration
A Sworn Declaration Under Penalty of Perjury is a similar promise. It's a sworn statement of fact. By signing this statement, you are swearing its truth and acknowledge that you have potentially perjured yourself if the statement is untrue. Most people choose to sign Form G-639 with a sworn declaration as it doesn't require the additional time and expense of obtaining a notarized affidavit.
Signing for a Child or Deceased Subject of Record
In some cases, the Subject of Record cannot sign for themselves. In these situations the Requester can sign, but there may be additional requirements.
If submitting a FOIA request on behalf of a child, the parent or legal guardian may sign. He or she will need to submit proof of parentage or guardianship:
Birth certificate
Adoption decree
Similar document naming the requester as the legal parent
If you are requesting information about a deceased Subject of Record, the Requester may sign and submit proof that the person is deceased. Examples of proof can include:
Death certificate
Obituary
Funeral memorial
Photograph of headstone