Our sample Form I-130 is a reference for individuals considering the use of the CitizenPath website to prepare a petition for alien relative. The type of relationship (spouse, child, sibling, parent) as well as several of the individual questions can drastically change eligibility and specific filing instructions. Therefore, use this sample I-130 petition as an example only. Do not depend on its contents to prepare your own petition.
Sample Form I-130 Petition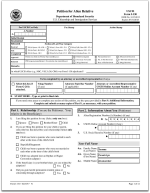 You can download a sample Form I-130 that was prepared using CitizenPath's immigration preparation software. The form is an official USCIS Form I-130, Petition for Alien Relative, prepared for the parent of a U.S. citizen.
Eligibility, requirements and supporting documents for the I-130 petition vary significantly. Using a sample petition is rarely a good idea for preparing your own.
How CitizenPath Makes It Easy
CitizenPath provides simple, affordable, step-by-step guidance through USCIS immigration forms like Form I-130. Individuals, attorneys and non-profits use the service on desktop or mobile device to prepare immigration forms accurately, avoiding costly delays. CitizenPath allows users to try the service for free and provides a 100% money-back guarantee that USCIS will approve the application or petition. Best of all, you'll get a simple set of filing instructions. Our filing instructions are customized to your answers in the petition so you know what to do for your specific situation. The filing instructions provide detailed directions on supporting documents, how to organize your petition, and where to mail it. Get started for free.