Part 3, Question 1 on Form I-90, Application to Replace Permanent Resident Card, asks about the "location where you applied for an immigrant visa or adjustment of status." In other words, they want to know where you applied for your green card.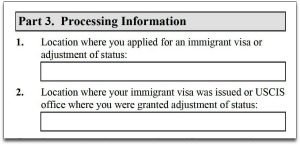 First, you must determine if you used consular processing or adjustment of status to obtain your green card.
Adjustment of Status
If you filed an Application to Register Permanent Residence or Adjust Status (Form I-485) because you were already in the United States, the location will be the "City, State" of the USCIS office where you filed. Usually this is the service center that processed your I-485 application. You may need to review your original paperwork if available. In rare cases, the location may be a court if an immigration judge granted your permanent residence.
Did you know minor mistakes on your Form I-90 application can cause costly delays and rejections?
Prepare your I-90 quickly and correctly with CitizenPath. The attorney-reviewed software guides you through the application and provides help to answer questions like this one. And personalized filing instructions help you to file your application today knowing that
you did everything right
! No credit card or signup required to try it.
Get started now >>
The location where your adjustment of status was granted is the USCIS office that approved your I-485 application. You can find this information on your green card.
RECOMMENDED: How to Read a Green Card
Consular Processing
If you applied for an immigrant visa through consular processing, the location will be the "City, Country" of the U.S. embassy or consulate where you initially submitted an application for your visa.
If you entered the U.S. with an immigrant visa (consular processing), be sure to complete questions 3.a. and 3.a1. For 3.a., your destination is the U.S. state that you initially settled. For example, if you entered the U.S. in Nogales, Arizona, but you were on your way to stay with family in Denver, Colorado, your destination was "Denver, Colorado."
Get 25% off preparation fees if you start Form I-90 with CitizenPath today.
In addition to your prepared form, CitizenPath provides you with a set of personalized filing instructions. Our filing instructions are customized to your answers in the application so you know what to do for your specific situation. The filing instructions provide detailed directions on supporting documents, how to organize your application, and where to mail it.
Start Form I-90 now
and use coupon code "
I90SUPPORT
" at checkout.

For 3.a1, your port of entry was "Nogales, Arizona" using the example above. For additional step-by-step guidance on these I-90 questions, try CitizenPath's online I-90 preparation service.
RECOMMENDED: Where is the location that my immigrant visa was issued or adjustment of status was granted?