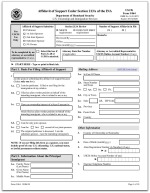 Form I-134, Declaration of Financial Support, is a way for non-immigrant visitors (visa holders and parolees) to the United States to prove that they have the financial support to pay their way during a trip. Prior to April 2022, this form was known as "Affidavit of Support." The U.S. government wants reassurance from foreign travelers that they will depart when their authorized stay expires or the purpose of their trip has concluded. Support from a U.S. resident is a way of providing this reassurance that the non-immigrant visitor will not be a public charge (depend on the government for financial support).
RECOMMENDED: Income Requirements for an I-134 Supporter
Who Should Submit Form I-134
Before the U.S. government grants a visa or humanitarian parole, visitors must demonstrate to consular officer that they are not likely to become a public charge. In other words, the visa applicant must prove that he or she has enough money to pay for their expenses during the course of the trip. Expenses may reasonably include transportation, food, lodging, and even potential medical treatment.
Some non-immigrant visitors have plenty of assets (like real estate, personal property, cash accounts) and can more easily document their ability to pay for all expenses during a trip to the U.S. For others, this may be difficult to prove. Visitors without many financial resources may run into a problem. It might include young people, low-income travelers and others. These individuals may use Form I-134, Declaration of Financial Support, as a way to overcome the problem.
Some of the most common uses of Form I-134 include but are not limited to:
B-2 visa visitors
K-1 fiancé visa holders
Humanitarian parole applicants
It also may be necessary to submit Form I-134 for a B, F, or M non-immigrant requesting extension of stay or change of status. This form may also be requested by the U.S. Department of State in certain instances.
RECOMMENDED: Obligations of the I-134 Supporter
Mistakes on your Form I-134 Declaration of Financial Support can cause costly delays or a denial.
Prepare your I-134 correctly and affordably with CitizenPath. The attorney-reviewed software guides you through the declaration and provides help to answer questions like this one. And personalized filing instructions help you to submit the declaration today knowing that
you did everything right
! No credit card or signup required to try it.
Get started now >>
Responsibilities of an I-134 Supporter
Generally, a U.S. citizen, U.S. national or lawful permanent resident may act as the supporter. It's also possible for certain non-immigrants to qualify as a supporter. The support should submit a separate Form I-134 for each foreign national visitor they intend to financially support.
By signing Form I-134, a supporter is not agreeing to pay all of the visitor's expenses. In fact, the foreign national visitor may plan to cover all of their own expenses during the course of the trip. The declaration is simply a reassurance to the U.S. government that the supporter will step in should the foreign national ever be unable to pay their own expenses during their stay in the U.S.
Most immigration attorneys consider Form I-134 to be unenforceable. In practice, it's virtually impossible for a foreign national to apply for public assistance. What's more, the government does have the resources to track down and enforce the guarantees.
Form I-134 is Different Than Form I-864
Form I-134 is sometimes confused with Form I-864, Affidavit of Support. For intending immigrants applying for a green card, Form I-864 is generally a requisite part of the application package. Most green card applicants use the I-864 affidavit as a means to remove the public charge ground of inadmissibility. On Form I-864, a U.S. citizen or permanent resident acts as a sponsor that promises to repay the government if the intending immigrant should ever depend on certain public benefits.
Generally, temporary visitors use Form I-134 and intending immigrants submit Form I-864.
Cost to File the I-134 Declaration
U.S. Citizenship and Immigration Services (USCIS) and the U.S. Department of State do not charge any fee for filing Form I-134. The supporter should forward the I-134 declaration and all supporting documents to the non-immigrant beneficiary. The beneficiary submits the paperwork as a part of the application.
A successful I-134 declaration is one that meets all the requirements. CitizenPath provides simple, affordable, step-by-step guidance through USCIS immigration forms like the I-134 declaration. Individuals, attorneys and non-profits use the service on desktop or mobile device to prepare immigration forms accurately, avoiding costly delays. Prepare the declaration using CitizenPath and give yourself the peace of mind that comes with our money-back, guaranteed service.
RECOMMENDED: Supporting Documents to Submit with Form I-134