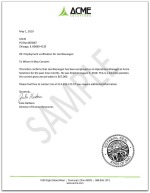 When submitting various USCIS immigration forms it is necessary to provide evidence of current income or evidence of continued employment. One of the methods to evidence current income and/or employment status is through an employment verification letter (EVL).
USCIS officers evaluate forms such as Form I-864, Affidavit of Support, and Form I-134, Declaration of Financial Support, to determine if the household has sufficient income to support an immigrant or visitor. While federal tax returns are effective for documenting past periods, an employment verification letter can help prove income for the current year. USCIS may also require an EVL for green card applicants who qualify on the basis of employment.
When applying for a green card, almost all family-based immigrants and some employment-based intending immigrants must show that they have adequate means of financial support and are not likely to become a public charge. To do this, the I-130 petitioner must fill out Form I-864, Affidavit of Support. If the petitioning sponsor doesn't meet the income requirements, a household member or joint sponsor must also join on.
Likewise, many non-immigrant visitors such as K-1 visa holders may need a financial supporter. For a K-1 fiancé, the I-129F petitioner may need to submit Form I-134 (Declaration of Financial Support) to document sufficient income. Other non-immigrants, including certain B-2 visitors, may need a supporter to submit Form I-134.
An employment verification letter is not necessarily required, but it is recommended. It can help corroborate your pay stubs or provide good primary evidence if you were recently hired.
RECOMMENDED: Public Charge Rule Explained
EVL Requirements
An employment verification letter for an affidavit of support is provided by the employer. Typically, the person who signs the letter is your supervisor or a human resources representative. The letter should be on company letter and include the following information:
Employment start date
Current employment status (full time, part time)
Title or position
Annual salary or hourly wage
If you paid by the hour, the best practice is to convert to annual salary. You may have your letter notarized. However, notarization is not a requirement.
Mistakes on your Form I-864 Affidavit of Support can cause costly delays or a denial.
Prepare your I-864 correctly and affordably with CitizenPath. The attorney-reviewed software guides you through the affidavit and provides help to answer questions like this one. And personalized filing instructions help you to submit the affidavit today knowing that
you did everything right
! No credit card or signup required to get started.
Try it before you buy it >>
Sample Employment Verification Letter
This sample employment verification letter is for use as evidence with an affidavit of support. Each letter is unique. In fact, your situation will certainly be slightly different. The letter should be short and to the point. Use this sample cover letter as an example.
Where to Submit the Letter
Include the employment verification letter along with your other supporting documents for the respective form.

When you prepare your Form I-864 or Form I-134 on CitizenPath, you'll also receive a set of filing instructions personalized for your situation. Based on your answers to questions in each form, our software will create a custom set of instructions so you know exactly which supporting documents to submit with each form. Try it now.