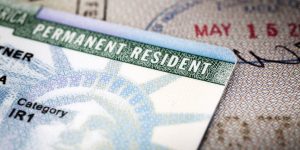 Green cards expire, and they must be renewed. The modern edition of the green card expires after 10 years. Permanent residents use Form I-90, Application to Replace Permanent Resident Card, to renew or replace a green card. They may file this green card renewal application if a card is expired or will expire within six months.
An expired green card creates big problems. A valid, unexpired green card is necessary to accept employment, reenter the United States, and even renew a driver's license in most states. Unfortunately, this dilemma sneaks up on many people everyday that aren't aware of the expiration date on their green cards.
In fact, U.S. immigration law requires permanent residents to carry a valid, unexpired green card at all times. Section 264 of the Immigration and Nationality Act (INA) states, "Every alien, eighteen years of age and over, shall at all times carry with him and have in his personal possession any certificate of alien registration or alien registration receipt card [green card] issued to him… Any alien who fails to comply with [these provisions] shall be guilty of a misdemeanor…"
Old Versions of Green Card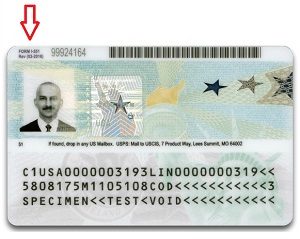 Certain versions of the green card are no longer valid. Permanent residents must carry Form I-551. Previous versions, such as Form AR-3, Form AR-103, or Form I-151, must be replaced.
To determine your version, review the small print on the corners of your green card. Ensure that your card has "I-551" printed in one of the corners.
Green Cards with No Expiration Date
The first edition of Form I-551, issued from 1977-1989, did not include an expiration date. According to U.S. Citizenship and Immigration Services, these cards continue to be valid. To date, they have not issued a policy of replacement.
However, carrying an old green card can present other problems. When reentering the United States after travel abroad, Customs and Border Protection officers have tremendous discretion. If the CBP officer feels that your photo is too dated to recognize you, or even that your card is too damaged, the officer has the right to refuse entry.
RECOMMENDED: My green card doesn't expire. Can I still use it?
Conditional Green Cards Expire Sooner
Another exception exists for conditional residents who obtained a green card through marriage or investment. These conditional green cards are valid for a period of only two years. Conditional residents should not let their cards expire. Instead of renewing the card, conditional residents must remove the conditions of residence.
A conditional resident must file a petition to remove the condition during the 90 days before the card expires. The conditional card cannot be renewed. The conditions must be removed or the resident will lose permanent resident status. Once the petition is approved, USCIS will issue a 10-year green card.
RECOMMENDED: Form I-751 FAQs: Remove Conditions on Green Card