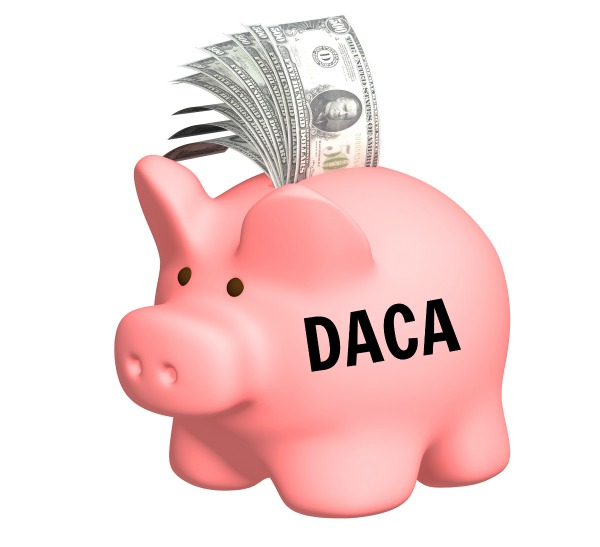 One of the major barriers to the Deferred Action for Childhood Arrivals (DACA) program has simply been cost. For many applicants, the DACA renewal cost can be overwhelming. Since DACA recipients must renew deferred action status every two years, the fees and preparation costs can add up quickly.
In addition to explaining the individual DACA renewal costs, this post suggests some options for reducing them.
DACA Renewal Cost Breakdown
A DACA renewal package generally consists of three different forms. Every time a DACA recipient wants to renew status, he or she must submit the following forms:
I-821D, Consideration of Deferred Action for Childhood Arrivals
I-765, Application for Employment Authorization
I-765 worksheet
Even if the applicant will not be working, he or she must submit Form I-765. This form is also what generates the photo identification. Form I-765 is the only form with a fee. Presently, the fee to renew DACA is $495.
Mistakes on your DACA application can cause costly delays or a denial.
Prepare Forms I-821D, I-765, and I-765WS correctly and affordably with CitizenPath. The attorney-reviewed software guides you through the application and provides help to answer questions like this one. And personalized filing instructions help you to file your application today knowing that
you did everything right
! No credit card or signup required to get started.
Try it before you buy it >>
DACA Fee Exemption
A fee exemption for DACA is available in very limited circumstances. To be considered for a fee exemption, submit a letter and supporting documents demonstrating that you meet one of the following conditions:
You are under 18 years of age, homeless, in foster care, or under 18 years of age and otherwise lacking any parental or other familial support and your income is less than 150% of the U.S. poverty level;
You cannot care for yourself because you suffer from a serious chronic disability and your income is less than 150% of the U.S. poverty level; or
You, at the time of the request, accumulated $10,000 or more in debt in the past 12 months as the result of unreimbursed medical expenses for yourself or an immediate family member and your income is less than 150% of the U.S. poverty level.
If you believe that you are eligible, you must request the DACA fee exemption before you file a request for consideration of deferred action. If you submit Forms I-821D, I-765 and I-765WS to a USCIS Lockbox facility without a fee and there's not approved fee exemption request, USCIS will reject the application and return it to you.  Follow USCIS steps for a fee exemption request.
Dreamer Loans
Several credit unions and organizations sprung to action to offer DREAMer loans to applicants of the DACA program. Generally, the loans provide a $495 personal loan for use with the deferred action application. Applicants do not need a credit history, they will need to provide a valid ID from any country, a valid individual taxpayer identification number (ITIN), and proof of physical address. Requirements may vary by loan program. To find a program near you, search Google for "dreamer loan".
Saving Money on DACA Renewal Preparation
If you have a straightforward case, many applicants have successfully filed DACA applications by themselves. However, if you have immigration violations or an arrest record, you should contact an immigration attorney before filing for DACA.
CitizenPath provides simple, affordable, step-by-step guidance through USCIS immigration applications like the DACA application package. Individuals, attorneys and non-profits use the service on desktop or mobile device to prepare immigration forms accurately, avoiding costly delays. CitizenPath allows users to try the service for free and provides a 100% money-back guarantee that USCIS will approve your DACA application. Try it now >>