In Part 4 (Items 57-58) of Form I-130, Petition for Alien Relative, the instructions ask the petitioner to type or print the beneficiary's name and foreign address in their native written language if that beneficiary's native written language does not use Roman letters.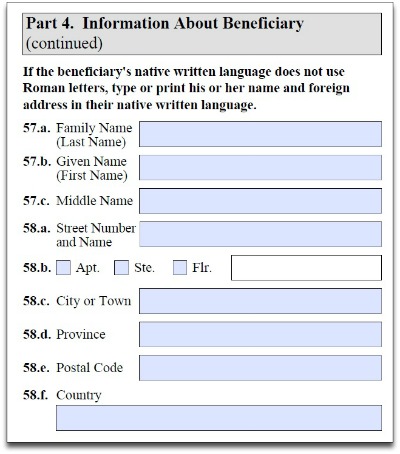 For example, a beneficiary from China or Saudi Arabia might use non-Roman characters when writing. In these cases, the petitioner should write out the name and address of the beneficiary.
Mistakes on your I-130 can cause costly delays or a denial.
Prepare your I-130 petition correctly and affordably with CitizenPath. The attorney-reviewed software guides you through the petition and provides help to answer questions like this one. And personalized filing instructions help you to file your petition today knowing that
you did everything right
! No credit card or signup required to get started.
Try it before you buy it >>
 
But what if the petitioner is unfamiliar with the written language and is unable to write these characters? For example, a U.S.-born citizen that petitions his Chinese national spouse may not be able to write Chinese characters. Assuming the petitioner is in the United States and the beneficiary is outside the U.S., this can present a challenge. In these cases, the petitioner may write "Unable to write Chinese characters and will submit at the time of interview."
Alternatively, the petitioner may forward the document (by mail or email) to the beneficiary so that the beneficiary can complete Items 57-58 in his or her native written language.