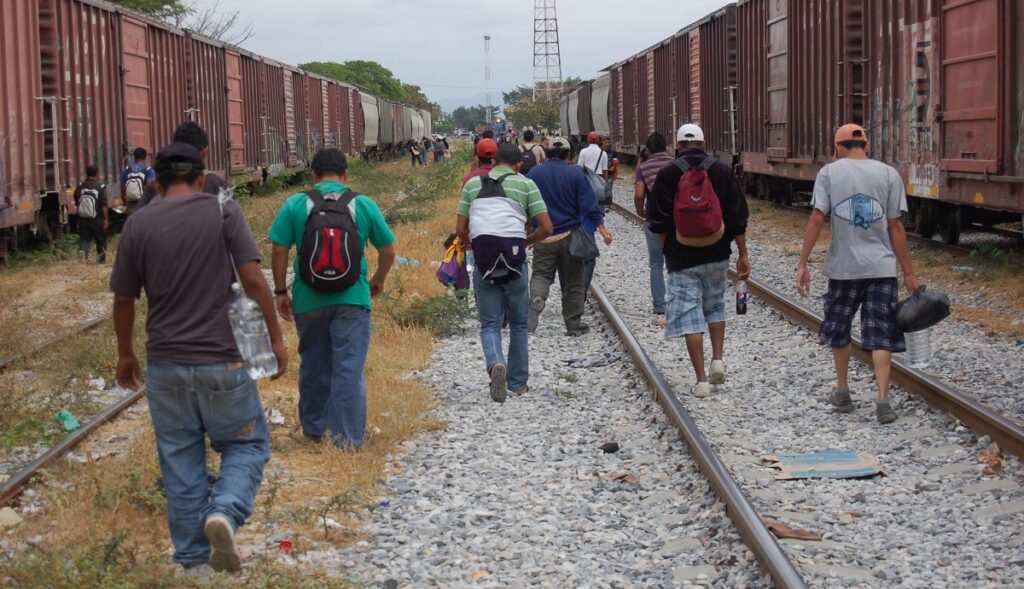 The belief that anyone can show up at a United States border and obtain asylum is an oversimplification. The asylum process is perhaps the most rigorous and scrutinous way to be admitted to the United States. All asylum seekers have to go through an extensive vetting process involving multiple government agencies. No application for asylum is approved until every step of the vetting process is done.
The typical (non-asylee) immigrant may come to the United States for a variety of reasons. Sometimes it's to start a new family or reunite with the rest of their family. Other times, people are looking for better personal and professional opportunities through work or study. And some people may have the good fortune to be chosen under special programs. For most, immigration is a positive experience.
Not everyone is so fortunate. The United Nations High Commissioner for Refugees (UNHCR) estimates the number of people who forcefully have to seek refuge outside of their countries of citizenship at around 80 million worldwide. From those 80 million, 4.2 million are asylum seekers, as of mid-2020.
Asylum Explained
In simple terms, asylum is a way that civilized nations protect persons who come from other countries that are unwilling or unable to protect them. Immigration law, specifically §101(a)(42) of the Immigration and Nationality Act, defines a refugee or asylee as a person who is unable or unwilling to return to their country because of persecution or a well-founded fear of persecution on account of:
Race
Religion
Nationality
Membership in a particular social group or
Political opinion
Asylum applications are managed by the United States Citizenship and Immigration Services (USCIS), just like all other immigration petitions and processes.
The United States recognizes these international definitions of asylum and sets them as criteria that may allow people to remain in the United States. Thus, USCIS does not grant asylum solely on the basis of:
Wanting a better economic opportunity
Because the family-based immigration process takes too long
They didn't know better
USCIS admits approximately 25,000 asylees each year. However, there is no statutory limit. The cap on refugees is different. So, President Biden's announcement to increase refugee admissions to about 125,000 is not tied to the asylum process. Resources to adjudicate (make a decision) on cases is one of the biggest limiting factors for the number of asylum admissions.
RECOMMENDED: Asylum Status Overview
Examples of Real-World Asylum
Legitimate asylum seekers are generally escaping violence and persecution on a level that their home country's government is not protecting them. Common scenarios include religious and political persecution. However, families are leaving Guatemala, Honduras, El Salvador, and other countries based on reasons like:
Gang violence and drug cartels
Forced smuggling
Persecution of LBGTQ+ community
These are very real and common situations for asylum seekers reaching our southern border. However, they are generally very difficult asylum cases. The reason is that persecution from gangs and drug cartels doesn't fit neatly into one of the protected groups. Again, the persecution must be the result of the asylum seeker's affiliation with a protected group: race, religion, nationality, membership in a particular social group, or political opinion.
But Can Asylum Seekers Just Show Up?
This is how the asylum process works. Asylum seekers show up at a U.S. port of entry. Generally, ports of entry include border crossings, airports and seaports. There simply isn't a process to request asylum from their home country.
The current situation at the southern border is part of a problematic phenomenon. Some call it a crisis. As a civilized nation with laws that facilitate the asylum process, the United States is legally bound to evaluate the claims made by asylum seekers. It's overwhelming at the moment because of the vast numbers of individuals showing up. That's why the current administration is focused on helping these countries fix the problem at home. After all, most of these immigrants would prefer to stay in their country of origin if only they felt safe.
Asylum seekers may travel as a large group because they are extremely vulnerable as individuals. Traveling with virtually no belongings or resources, asylum seekers take advantage of the security found in a caravan of similar migrants.
Types of Asylum in the U.S.
Affirmative Asylum Process
Affirmative asylum would be what's considered a "regular" asylum case. The applicant must be present in the United States and may apply for asylum at any port of entry. It's a proactive approach to the asylum process, as the applicant makes a claim before any enforcement or deportation efforts have started.
Generally, the applicant must submit Form I-589, Application for Asylum and for Withholding of Removal, within one year of arrival to the U.S. There is no fee to apply. He or she must provide a qualified interpreter for the asylum interview.
Defensive Asylum Process
If the asylum seeker is already in removal proceedings (deportation process) through an immigration court, it becomes a defensive asylum process. The applicant is asking for the government to reverse its decision to deport and allow him or her to remain in the United States via asylum. An immigration judge makes a decision independent of any previous decision by USCIS.
The immigration court provides a qualified interpreter for the asylum hearing and all other court proceedings.
Typically, an asylum case turns defensive if one of the following situations occurs:
A person claims asylum at the border;
The applicant applied for affirmative asylum first, and the application was not approved, after which the applicant was placed in removal proceedings;
Immigration officials place the individual in removal proceedings for immigration violations (typically no documents or overstay);
The individual tried to enter the U.S. without proper documents, and a U.S. CBP officer determines there are reasons to believe that the person's life or safety is in danger. This is validated by going through what is called the Credible Fear process.
People in the defensive asylum process must go to removal (deportation) hearings in an immigration court. Immigration and Customs Enforcement (ICE) is responsible for arguing against the asylum seeker, and in favor of deportation. Individuals will have the opportunity to defend themselves, either on their own or through a lawyer.

Who's Eligible to Apply for Asylum in the U.S.
Anyone who falls under the criteria established in the definitions of persecution or has a well-founded fear of persecution can apply for asylum while being present in the United States. They can include their spouses and unmarried children under 21 in their applications.
Much of the I-589 application is straight forward, but proving asylum goes far beyond filling out a form. Applicants need to appreciate the importance of submitting evidence that supports their claim of persecution or feared persecution. This can be a difficult task. For this reason, asylum seekers have the best chance of success if aided by an attorney or other legal support organization.
Additional information may include: sworn statements from people who have firsthand knowledge of the conditions that make a person eligible for asylum; the applicant's own statement about the circumstances that led to the asylum process; and proof of identity for the people submitting sworn statements.
Employment Authorization
Asylum seekers may be eligible to obtain a work permit (employment authorization document) based on a pending asylum application. However, making a determination for eligibility can be difficult. The requirements have changed over time and factor in many criteria. Therefore, we recommend that asylum seekers seek the assistance of an immigration attorney before applying for employment authorization.
If USCIS grants asylum, the beneficiary is immediately authorized to work. Some asylees choose to obtain an EAD for convenience or identification purposes, but USCIS does not require asylees to obtain an EAD.
Asylees that want to obtain the card should file Form I-765, Application for Employment Authorization. There is no government filing fee. Individuals that need help preparing the form can also use CitizenPath to help with the process.
Vetting Applicants in the Asylum Process  
The U.S. government expends significant resources to vet asylum seekers. Many would argue it is the most rigorous path for U.S. immigration because of the numerous background checks, interviews and adjudication process.
If the applicant advances through the affirmative process, an asylum officer will generally be the one to interview the applicant and make a decision on a case. Individuals in the defensive asylum process are put into a more adversarial situation. ICE officers will be making the argument to remove the asylum seeker. An immigration judge will make the decision to grant asylum or deport the person. If the immigration judge issues a denial, the applicant may appeal the case in front of other appellate venues such as the Board of Immigration Appeals (BIA), federal district courts of appeal, and in rare situations the Supreme Court of the United States. Of course, the applicant will have an extremely difficult situation even with the assistance of an experienced attorney.
USCIS Biometrics Appointment
USCIS will schedule applicants to attend a biometrics appointment to collect fingerprints, photograph and a signature. Technicians collect a complete set of fingerprints from applicants who are between the ages of 12 years 9 months and 79 years. USCIS will use this information to conduct an FBI criminal background check.
Asylum Background Checks and Security Screenings
Beyond the biometrics, there is extensive screening to ensure the applicant is not known to have criminal associations, suspicious activities or past violations. Some of the information reviewed during the background check includes:
Criminal history
Links to organizations that may pose a threat to the United States
Travel history
Foreign activity
Immigration records, to account for any previous instances of removal proceedings
Any intelligence records that may refer to applicant personally, as well as terrorist watchlists and
Potential fraud, including identity theft.
Some of the government agencies working with the Department of Homeland Security's USCIS in the vetting process include: the Department of Defense, the Department of State, the National Counterterrorism Unit, Immigration and Customs Enforcement, Customs and Border Protection, and the Federal Bureau of Investigation.
U.S. laws prohibit granting asylum to anyone who has been convicted of a serious crime in the United States; committed crimes abroad not political in nature; those who've been involved in terrorist activity or linked to terrorist organizations; people who have aided in persecuting others (such as war criminals); and anyone who may pose a threat to the United States. Asylum officers may make this determination based on what comes up during the vetting process, at which point the asylum application becomes defensive and a claim to asylum must be supported in immigration court.
Interview
USCIS requires affirmative asylum seekers to appear for an interview with a specially trained asylum officer. Asylum officers are different from typical immigration officers conducting interviews for family-based and employment-based applications. These officers have special training in asylum law, interviewing techniques, researching country of origin information, and decision-making/writing.
The vetting process also involves reviewing all the documentation submitted with the original asylum application, as well as reviewing the identities of anyone you refer to in said documentation, or who submits sworn statements.
A supervisory asylum officer reviews the asylum officer's decision to ensure it is consistent with the law. Depending on the case, the supervisory asylum officer may refer the decision to asylum division staff at USCIS headquarters for additional review. They may decide to approve, deny, or refer your application to immigration court. USCIS generally provides a decision within about two weeks after completing the interview.
After USCIS Grants Asylum
Once USCIS awards asylum to a person, he or she may live and work in the United States as long as they qualify as asylees. They also have access to healthcare assistance through the Office of Refugee Resettlement. USCIS will provide an approval letter and an I-94 arrival/departure record with the grant of asylum as evidence to obtain benefits. USCIS will grant asylum to the principal applicant's spouse and children if included on the I-589 application.
Again, a grant of asylum in the United States does not expire. However, USCIS may terminate asylum status if the beneficiary:
No longer has a well-founded fear of persecution because of a fundamental change in circumstances
Obtained protection from another country
Obtained the original asylum grant through fraud
Committed certain crimes or engaged in other activities that make him or her ineligible to retain asylum in the United States
Asylees may also apply for permanent residence (green card) after one year. After a year in asylum status, he or she may adjust status to permanent resident. This is an important benefit because it allows them to remain in the United States permanently.
Green card applicants can fill out an adjustment of status application using CitizenPath's preparation software. It provides a simple, affordable way to prepare the application. Designed by attorneys, there's a money-back guarantee that USCIS will approve the application. CitizenPath even provides filing instructions customized to the applicant's answers so they know exactly which supporting documents to include and how to organize the package. Learn more >>
RECOMMENDED: Asylum Status to Green Card after Only One Year
Want more immigration tips and how-to information for your family?
Sign up for CitizenPath's FREE immigration newsletter and
SAVE 10%
on our immigration services