The visa number, also called a visa foil number, is a red number that is generally printed on the bottom right side of newer visa documents. In most cases, the U.S. visa number contains eight numeric characters. In some cases, the number contains one letter followed by seven numeric characters.
Location of the Visa Number
Over time, the U.S. Department of State has changed the location of the visa number. The examples below may help you find your number.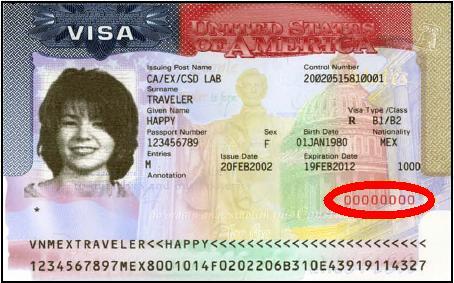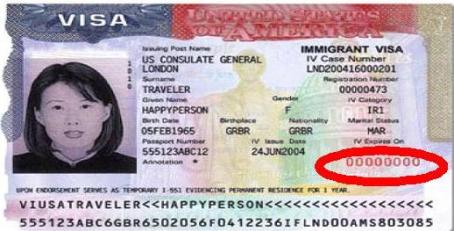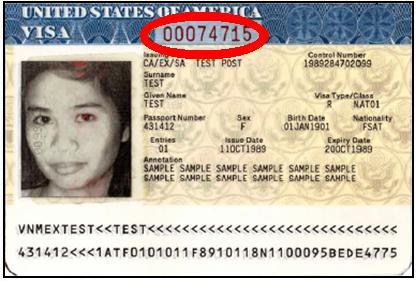 Most travelers need a visa and passport to enter the United States. Customs and Border Protection officers at the port of entry will collect your visa number to verify your authorization to enter. The number is temporary if you have a nonimmigrant visa (such as a B-2 visitor or F-1 student visa). The visa number is permanent for immigrant visas (green cards).
RECOMMENDED: Everything You Need to Know About a Visa Stamp
In addition to the number, U.S. visas generally contain the following information:
Issuing Port Name – typically the U.S. embassy where the visa as issued
Visa Holder's Last name
Visa Holder's First Name
Sex – indicates the gender of the person as F (female) or M (male)
Date of Birth
Nationality
Passport Number
Visa type – indicates the category of visa
Entries – indicates the number of times the visa may be used to enter the U.S. (S for single entry or M for multiple entries)
Issuing Date – when the visa was issued
Expiration Date – when the visa expires and is no longer valid for entry
Annotations – notes left by the U.S. embassy adjudicators
Immigrant Visa Number Availability
Immigrant visa number availability is a different concept all together. U.S. immigration law limits the number of immigrant visas (green cards) that are available each year. Therefore, there is only a certain amount of "immigrant visa numbers" each year. Even if USCIS approves an I-130 petition, there may be several people waiting for an immigrant visa number already. As a result, it could take several years to get your immigrant visa number. Learn more about family-based immigration and how to read the visa bulletin to determine when your immigrant visa number is available.
To get a family-based immigrant visa number, the U.S. citizen or permanent resident family member must file Form I-130, Petition for Alien Relative.
RECOMMENDED: Family-based Immigration in the United States