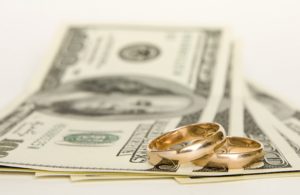 Before the U.S. embassy or consulate will grant a K-1 visa to a foreign national, the visa applicant must demonstrate that he or she won't be dependent on the U.S. government for public benefits. In other words, the K-1 visitor must clearly be able to afford the trip and extended stay in the United States. In many cases, the government may request that the U.S. citizen petitioner submit an affidavit to facilitate this process. As such, the U.S. citizen petitioner must prove that he or she has sufficient income to support the foreign visitor if necessary. Even if the foreign national has a well-paying job lined up in the United States, the petitioner will need to disclose his or her financial situation and sign an affidavit of support. Fortunately, the K-1 visa income requirements are relatively low.
K-1 Visa Income Requirements
In short, the U.S. citizen petitioner (person who filed Form I-129F, Petition for Alien Fiancé) must have an income that at least 100% of the poverty guidelines. For the current year's guidelines, refer to the HHS poverty guidelines. It is updated each year so that you can easily look up the requirements.
Your total income may include sources of income in addition to your employment. Your total individual income includes:
Wages, salaries, tips
Taxable interest
Ordinary dividends
Alimony and/or child support
Business income
Capital gains
Taxable IRA distributions
Taxable pensions and annuities
Rental income
Unemployment compensation
Workers compensation and disability
Taxable Social Security
Means-tested public benefits such as food stamps, SSI, Medicaid, TANF and CHIP should be excluded from income.
Determining Your Household Size
To determine if you meet the K-1 visa income requirements, you'll first need to know your household size. Generally, your household includes you and any dependents. Add together your current dependents and the intending immigrants. If your fiancé has children that will accompany, they must be included in the calculation. To determine your household size, add together the following as applicable:
Yourself
Any people listed as dependents on your tax return
Any immigrants that you have sponsored in the past
Your fiancé and any children that will join
Once you have determined your total household size, refer the appropriate table in the HHS poverty guidelines. Your income must meet or exceed the amount in the table. Note that there are separate tables for Alaska and Hawaii (due to the higher cost of living). Use the table for the state where you live or intend to live.
For example, a supporter with no dependents except for the fiancé would have a household size of two. Based on the 2022 poverty guidelines, the petitioner would require an income of at least $18,310 to meet the K-1 visa income requirements in all states except for Alaska and Hawaii.
Mistakes on your I-129F petition can cause costly delays or a denial.
Prepare Form I-129F, Petition for Alien Fiancé, correctly and affordably with CitizenPath. The attorney-reviewed software guides you through the petition and provides help to answer questions like this one. And personalized filing instructions help you to file your petition today knowing that
you did everything right
! No credit card or signup required to get started.
Try it before you buy it >>
Proving You Meet the Income Requirement
Once USCIS approves Form I-129F, the National Visa Center may ask the petitioner to submit additional documents, including Form I-134, Declaration of Financial Support, on behalf of the foreign fiancé. Use Form I-134 to support a visa applicant and show they have sufficient financial resources while in the United States. In short, it's reassurance for the U.S. government that the financial supporter will step in should the K-1 beneficiary ever become dependent on the government for public benefits.
Do not confuse Form I-134 with Form I-864, Affidavit of Support. Form I-134 is to be used in conjunction with the K-1 visa. Once the foreign national is in the United States and adjusts status to permanent residence (green card), the U.S. citizen will submit Form I-864, Affidavit of Support, at that time. This is a separate affidavit with a similar purpose.
If you do not meet the K-1 visa income requirements with your own income, another person may ack as the supporter. Generally, this would be a close family member who agrees to be financially responsible.
Generally, you'll use a copy of your most recent federal income tax return to prove that you meet the income requirements. However, there other ways to demonstrate you have sufficient income, particularly if it isn't included on the income tax return.
RECOMMENDED: Supporting Documents to Submit with Form I-134
Green Card Income Requirements
Once married, the foreign national may apply for a green card through adjustment of status. Green card applicants who are applying on the basis of a K-1 entry are generally subject to the public charge rule. USCIS will make a determination if the applicant will likely become a public charge at any time in the future based on certain criteria. USCIS will evaluate applicant's education, skills, employment history and other resources. The total household income (including the petitioning sponsor's income) is taken into consideration.
RECOMMENDED: Public Charge Rule Explained