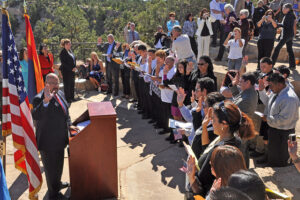 Every year some 700,000 people choose to become a U.S. citizen at naturalization ceremonies across the country. There are many benefits and privileges of being a United States citizen compared to a green card holder.
Here are a few reasons to take the next step and become a U.S. citizen:

The Right to Vote
Direct participation in democratic elections is one of the most important privileges that this country offers its citizens. Only U.S. citizens have the right to vote in federal elections and to be candidates in most elections. You can have a vote in the next presidential election and on important issues like immigration policy.
Family Reunification
U.S. citizens can help overseas family members immigrate more quickly to the United States. The relatives of citizens are given priority by USCIS (as compared to relatives of permanent residents).
Citizenship for Children
Children of citizens receive automatic citizenship if they are under 18 years of age. In most cases, this includes children born abroad to U.S. citizens.
Additional Job Opportunities
The federal government is one of the biggest employers in the world and offers many job opportunities in a wide range of industries. However, the vast majority of federal jobs are available only to U.S. citizens.
International Protection
The United States protects its citizens abroad through its embassies and consulates. The U.S. government assists citizens who are victims of crimes overseas and provides aid to U.S. citizens abroad in the case of international disasters or emergencies.
More Student Aid
The federal government has different types of financial assistance for students, including scholarships and grants that are available exclusively for U.S. citizens.
Additional Government Benefits
You may qualify for other government benefits that are only available to citizens.
Permanent Residency in the United States
Your right to remain in the United States as a U.S. citizen cannot be taken away. When you naturalize, there is no chance that you could be deported.
How CitizenPath Can Help You Become a U.S. Citizen
CitizenPath provides simple, step-by-step guidance through Form N-400, the application for U.S. citizenship. Our low-cost service helps to simplify the process by explaining each question and providing alerts if your answer to a question could be a problem. Most people do not need an lawyer to apply for citizenship, but many need a little assistance through the application. That's where CitizenPath can help. Learn more.
Additional Resources
U.S. Citizenship Resource Center
USCIS Citizenship Information
Citizenship Requirements for 5-Year Permanent Resident
Citizenship Requirements for 3-Year Permanent Resident Married to U.S. Citizen
Citizenship Requirements for U.S. Armed Forces
What Happens After Filing N-400, Application for Naturalization
How to Prepare for the U.S. Citizenship Test & Interview