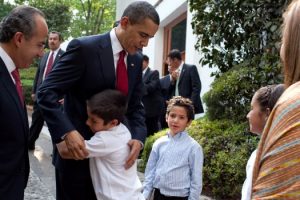 Obama said publicly in June that because Congress had failed to act on comprehensive immigration reform, he would take executive action to "fix as much of our immigration system as I can on my own."
He may be following through this summer with a plan to expand DACA to more immigrants. The Los Angeles Times reported Friday that the White House will be announcing a plan to expand deportation relief through executive action to roughly 5 million immigrants of the 11 million undocumented immigrants in the U.S.
The plan is being compared to the Deferred Action for Childhood Arrivals (DACA) program. The Los Angeles Times was told by officials that there are two options being considered:
Allow undocumented immigrants who are parents of U.S. citizens to apply for temporary legal status which would provide employment authorization and provide deportation relief. It is estimated that this could affect 5 million undocumented immigrants.
Another option would be to allow temporary legal status for the parents of young people already granted deportation deferrals by the Obama administration. This would affect a smaller, but still sizable, number of people.
Executive action to expand DACA is expected to be formally announced by the White House before the end of summer.
Read more DACA-related articles or visit the DACA Resource Center.