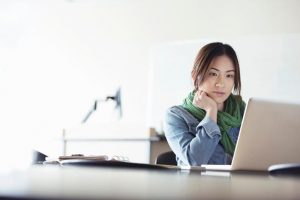 Form G-325A, Biographic Information, is generally used with green card applications and provides U.S. Citizenship and Immigration Services (USCIS) with necessary information needed to make a decision on each case.
Any time a visa petition or adjustment of status application is filed, an extensive background check must be performed by USCIS to look into the past residences, employment, and family ties for the immigrant applicant and the U.S. petitioner.
Form G-325A is their way of supplementing other applications to collect this background information. It's important that the information you provide on Form G-325A is truthful, accurate and consistent. If not, the worst cases can include denied applications or even long-term immigration issues.
Form G-325A in Marriage-Based Applications
One of the most common uses for Form G-325A is in connection with marriage-based petitions. You may need to submit Form G-325A in combination with Form I-129F, Petition for Alien Fiancé, or Form I-130, Petition for Alien Relative, when filing for a spouse.
Update: With the new 2017 editions of Form I-130, Form I-129F, and Form I-485, USCIS no longer requires Form G-325A. The biographic information questions that were a part of Form G-325A are now integrated with the petitions/applications.
When filing Form I-130 for a spouse, both the U.S. petitioner and the foreign spouse must each prepare a separate Form G-325A.
Need Help with Form G-325A?
Use CitizenPath's
free G-325A preparation tool
. It's step-by-step software to help you fill out Form G-325A,
Biographic Information
. You'll get simple instructions and a ready-to-sign document when you're done.
When you prepare Form I-130, Petition for Alien Relative, on CitizenPath,
a Form G-325A will automatically be provided for you.
Filling Out Form G-325A
For the most part, preparing Form G-325A, Biographic Information, is self-explanatory. However, it's critical that you fill out the form with information is that accurate and honest. It also must be consistent with information that you've provided in other contact with USCIS. If telling the truth could be a problem, it's always best to consult with an immigration attorney before filing a form with USCIS.
Name(s)
Provide your full name. Do not use initials. You will also need to list any other names that you have used. Examples include a maiden name or a name used in a previous marriage.
File Number
Your file number is your Alien Registration Number (A-Number). If you have one, an A-Number is an eight- or nine-digit number assigned to you by USCIS or the Department of Homeland Security. If you are a U.S. citizen by birth or have never had any contact with U.S. immigration, you most likely do not have an A-Number.
Former Husbands or Wives
This is a very important section to complete, particularly if you are using the Form G-325A in connection with a marriage-based petition. USCIS is looking closely at two things. They want to make sure that any previous marriages have been legally terminated and that your current marriage is valid. USCIS also wants to ensure that none of your previous marriages involved marriage fraud. If you believe that completing this section truthfully might be a problem, contact an immigration attorney.
Applicant's Residence Last Five Years
List all addresses, even if they are in another country. Remember, list your present address first. List the remaining addresses in reverse chronological order.
Applicant's Employment Last Five Years
Again, enter your employment information in reverse chronological order. Enter your present (or most recent) employer first. You must list all periods of employment or unemployment on Form G-325A, Biographic Information. If employed or self-employed, list the job details. If unemployed for any period, enter "Unemployed" for the name of employer. You may list "student" or "homemaker" under occupation if that is how your spent your time during the period. Don't leave any time period unexplained. Describe every period of employment or unemployment over the past five years.
If any of your employment was unlawful or you used false documents (i.e. fake green card or Social Security) to obtain employment, please consult with an immigration attorney before filing Form G-325A.
If an item does not apply to you, you can enter "N/A" in the space provided to indicate that it is not applicable. Likewise, it's acceptable to enter "Unknown" to indicate that you do not know an answer. Use the "Unknown" answer sparingly if you truly do not know and cannot obtain the information. If you use this answer excessively, USCIS may reject your application or petition.
How to File Form G-325A
You will file Form G-325A with the application or petition that requires it. Simply mail Form G-325A (in the same envelope) to the same address where you're filing the primary application or petition. There is no separate filing fee for Form G-325A, Biographic Information.
Most Common Problems with Form G-325A
Form G-325A is a simple form, but your primary application or petition could be rejected if you fail to properly file a complete package. By failing to submit a complete G-325A, your primary application/petition will be delayed and possibly even denied. Some of the most common problems with Form G-325A include:
Forgetting to sign G-325A
Submitting the wrong form – don't confuse the form with similar forms like Forms G-325 or G-325B
Providing incomplete information
Need More Space on Form G-325A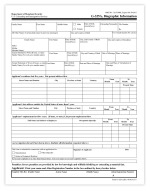 Among other biographic information, Form G-325A requires you to document former spouses, address history and employment history. If the form does not have sufficient space to document each record, you will need to attach a separate sheet of paper that includes the information.
Label the additional sheet of paper as a G-325A supplement at the top. Write your name and A-Number (if applicable) at the top. For each item, format a similar question and answer space. It is highly recommended that you type this document. Be sure to sign and date the attachment at the bottom.
For your convenience, CitizenPath provides a free downloadable Form G-325A supplement template. After completing the supplement, print a copy and place it behind your Form G-325A.
Finally, review your Form G-325A to verify that all information is correct and accurate. Incomplete or inaccurate forms will likely delay your case. But it could even result in denials, or worse yet, long-term immigration problems.
About CitizenPath
CitizenPath is the online service that makes immigration forms simple. The website provides simple, step-by-step guidance through USCIS applications and petitions. Our low-cost service helps to simplify the process by explaining each question and providing alerts if your answer to a question could be a problem. Most people do not need a lawyer to prepare USCIS forms, but many need a little assistance. That's where CitizenPath can help. CitizenPath provides support for the Petition for Alien Relative (Form I-130), Green Card Renewal (Form I-90), the Citizenship Application (Form N-400), and several other popular forms.