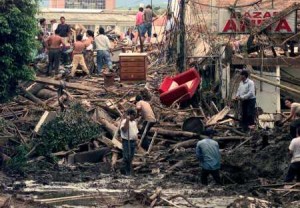 CitizenPath is using technology to help applicants who are re-registering for Temporary Protected Status (TPS) benefits. The company has combined the knowledge of experienced attorneys with internet technology to provide a service that makes it easy and inexpensive for immigrants to prepare several forms and applications required by U.S. Citizenship and Immigration Services (USCIS).
Last week the U.S. Department of Homeland Security (DHS) announced the extension of the Temporary Protected Status (TPS) designation of both Nicaragua and Honduras.
About Temporary Protected Status
DHS may grant a country Temporary Protected Status if it determines that conditions in the country make it dangerous for that country's nationals to return. Typically, wars and natural disasters, such as Hurricane Mitch in Nicaragua and Honduras, are qualifying events. DHS initially granted TPS to both countries in 1999. Once a country is granted TPS, USCIS is charged with administering the program. During the designated temporary period, TPS beneficiaries:
Are not removable from the United States
Can obtain an Employment Authorization Document (work permit)
May be granted travel authorization
Applicants must complete USCIS Form I-821, Application for Temporary Protected Status, for consideration.
How CitizenPath Helps
CitizenPath's low-cost service provides step-by-step guidance for applicants of Form I-821. The service simplifies complicated immigration forms much like how LegalZoom® might help its customers with incorporation or trademarks. Anyone can try CitizenPath's service at no cost by visiting www.citizenpath.com/i-821.
The service is an exceptional solution for immigrants that have straight-forward cases, but CitizenPath is not a substitute for an experienced immigration attorney. In fact, CitizenPath will recommend that the applicant contact an attorney any time that applicant provides an answer that could be problematic.
When CitizenPath does find that an applicant's case requires the attention of an attorney, no fee is charged. In fact CitizenPath does not charge a fee at all until the applicant is finished and satisfied. Payment is required to download the prepared form and filing instructions that have been customized to the applicant.
Important Dates for Nicaragua and Honduras TPS
The Nicaragua and Honduras TPS designations have been extended through January 5, 2016. However, beneficiaries of Nicaragua and Honduras TPS must re-register between October 14, 2014 and December 15, 2014, to keep those benefits through the new date. Employment Authorization Documents (EADs) will automatically be extended through July 15, 2015.
Additional TPS Resources
USCIS Page for Nicaragua TPS
USCIS Page for Honduras TPS
Get started on TPS re-registration