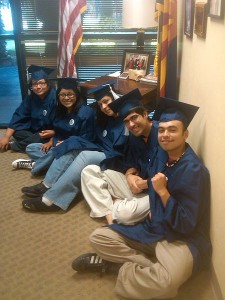 It all started with the notion that youth who came to the United States unlawfully with their parents shouldn't be penalized the rest of their lives. After all, how does handcuffing somebody's ability to get an education, work and volunteer in our military help any American prosper? It doesn't.
Deferred Action for Childhood Arrivals, better known as DACA, put a band aid on this problem. But as DACA recipients know all too well, the grant is only temporary and provides no legal status, much less a path to citizenship.
Although comprehensive immigration reform seems unlikely in the near future, finding a solution for the younger segment of the undocumented population appears to be one of the more likely piecemeal bi-partisans bills that have a chance. Here is a look at some of the recent legislation that has attempted to address the issue.
The DREAM Act (H.R. 1842 and S. 952)
It all boiled to the surface with the DREAM Act, the bi-partisan legislation that would potentially give young undocumented Americans a path to citizenship after meeting several criteria. Formally known as the Development, Relief, and Education for Alien Minors Act, both the Senate and House introduced versions of the bill in May 2011. The DREAM Act would permit certain immigrant students who have grown up in the U.S. to apply for temporary legal status and to eventually obtain permanent legal status and become eligible for U.S. citizenship if they go to college or serve in the U.S. military. The legislation would also eliminate a federal provision that penalizes states that provide in-state tuition without regard to immigration status.
The Military Enlistment Opportunity Act of 2013 (H.R. 435)
Rep. Mike Coffman (R-CO) sponsored the Military Enlistment Opportunity Act of 2013, a stand-alone bill which would legally permit undocumented immigrants presently covered by DACA to serve. Presently, undocumented immigrations are not allowed to serve in the U.S. military. At a press conference with DREAMers, Coffman said, "If somebody is willing to lay their life down for their country, I think they deserve citizenship."
Border Security, Economic Opportunity and Immigration Modernization Act (S. 744 and H.R. 15)
The Senate's gang of eight introduced a comprehensive immigration reform billed called the Border Security, Economic Opportunity and Immigration Modernization Act in June 2013. A similar version was presented in the House of Representatives in October 2013. At the time, this legislation seemed to have broad support and a good chance of passing. Yet no progress has been made.
The Enlist Act (H.R. 2377)
In June 2013, the Encourage New Legalized Immigrants to Start Training (ENLIST) Act, which authorizes the enlistment in the Armed Forces of qualified undocumented immigrants, was introduced by Rep. Jeff Denham (R-CA). The stand-alone bill, which had bi-partisan support, would allow qualified undocumented immigrants who were brought into the United States on or before December 31, 2011 at or under the age of 15 to become permanent residents (green card holders) through their honorable service and sacrifice by serving in the U.S. military.
National Defense Authorization Act 2015
More recently, Rep. Jeff Denham (R-CA) tried to resurrect the ENLIST Act by piggy backing the provision in the fiscal 2015 National Defense Authorization Act (NDAA). However after deliberation, the provision was pulled from the bill by the committee chairman because of concern that it was contentious enough to derail the overall bill.
DACA-mentation for All
Although there has been little tangible progress in immigration reform this year, DREAMers and some legislators continue to push for change. Immigrant advocates have been calling on the Obama administration to expand the program to other categories of undocumented immigrants. For example, during an April 9 meeting between the Congressional Hispanic Caucus and Homeland Security Secretary Jeh Johnson, the CHC asked that DACA be expanded to the parents and siblings of DACA recipients, as well as the parents of U.S. citizen and lawful permanent resident children. Johnson has committed to finding ways to enforce immigration laws "more humanely." News yesterday suggests the Obama Administration will soon be announcing a modification in the way it enforces immigration laws and potentially "realign" deportation policies.