RAISE Act Threatens to Wreck Family-Based Immigration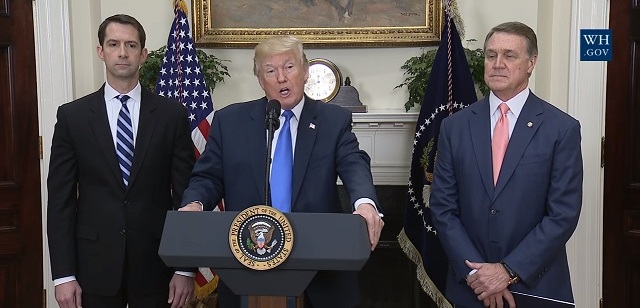 Last week President Trump put his support behind legislation that would dramatically reshape the U.S. immigration system. If successful, the plan would significantly limit the number of green cards that are issued each year through family-based immigration. Instead, preference would be given to hopeful immigrants that offer the best skills to the American economy. Known as the "Reforming American Immigration for a Strong Economy" (RAISE) Act, the legislation would be the most significant change to U.S. immigration policy in almost five decades.
Senators David Perdue and Tom Cotton actually introduced the bill that they authored earlier this year. But after receiving the endorsement of President Trump, a revised version (S. 1720) of the RAISE Act was introduced to the public at a White House gathering last week. The bill received broad criticism from immigration advocates, economists and several lawmakers.
What the RAISE Act Would Eliminate
The RAISE Act proposes to slash what supporters term "chain migration." This includes ways of immigrating to the United States that are based on family relationships, not based on skills. Approximately two-thirds of green cards issued each year are given to immigrants with a family member that is already in the United States as a U.S. citizen or lawful permanent resident. Critics of the current system claim that this inflow of immigrants displaces blue collar American workers.
Under the current family-based immigration system, U.S. citizens can petition a spouse, child, adult son or daughter, parent or sibling to come to the United States and obtain a green card. Lawful permanent residents can petition spouses, children and unmarried sons or daughters. Under the proposed law, only spouses and minor children would be eligible. But even the definition of minor children has been modified. Current immigration law considers a minor child to be under 21 years of age. The RAISE Act would reduce the age to under 18, thus reducing the number of children that would be eligible for permanent residence.
It would also eliminate the 50,000 Diversity Visa Lottery green cards issued each year and further limit the number of refugee admissions to about 50,000 each year.
Petitioning a Relative in the Current System
Under existing immigration law, a U.S. citizen or lawful permanent resident (green card holder) may petition a relative using Form I-130, Petition for Alien Relative. Only certain familial relationship are eligible. The petition establishes this eligible relationship and is also a request for a visa number. Once the I-130 is approved and current (visa number is available), the intending immigrant can apply for the green card. For a more detailed explanation of eligibility and how to petition a relative, read our Family-Based Immigration section.
How the New System Would Work
If implemented, the RAISE Act would shift American immigration to a "merit-based" system that scores intending immigrants based on their ability to work in the United States. The grading system would consider prospective green card holder's median salary, education, ability to speak English and skills needed by the economy.
Specifically, the merit-based system would open a door for up to 140,000 employment-based green cards each year.
The bill's authors believe the skills-based approach would reduce immigration and provide a greater boost to the American economy. Perdue and Cotton said their proposal is modeled after merit-based immigration systems in Canada and Australia that also use point systems.
There would continue to be some family-based immigration, but it would be limited to spouses and minor children.
What's Next for the RAISE Act
If this bill is to become law, it has a tough road ahead. For starters, it's perhaps the most significant immigration reform in the last 50 years. It would be a fundamental change in the way Americans allow foreigners to immigrate.
Although there's a Republican majority in the Senate, the RAISE Act has criticism from both sides of the aisle. Moderate republicans with large immigrant populations in their home states may find it difficult to support. Other republicans favor a more comprehensive approach to immigration reform.
There is already a long list of measures that Congress is considering, including health care, tax reform, a budget and raising the debt ceiling. With President Trump's political capital diminished after recent setbacks, it's not likely the plan will get passed any time soon.
---
The proposed RAISE Act seeks to reduce the number of green cards issued from about one million to around 500,000 each year. Most of that will be taken from current family-based immigration paths. According to administration officials, the law would grandfather in existing petitions. Thus, hopeful immigrants with a pending I-130 petition will be protected. This has many families considering their options. If they plan to petition a family member for a green card, the time to do so may be running out.
About CitizenPath
CitizenPath provides simple, affordable, step-by-step guidance through USCIS immigration applications. Individuals, attorneys and non-profits use the service on desktop or mobile device to prepare immigration forms accurately, avoiding costly delays. CitizenPath allows users to try the service for free and provides a 100% money-back guarantee that USCIS will accept the application or petition. We provide support for the Petition for Alien Relative (Form I-130), Green Card Renewal Application (Form I-90), Citizenship Application (Form N-400), and several other popular forms.