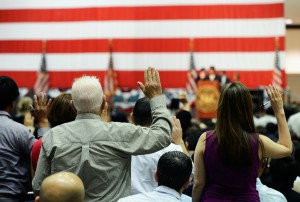 Effective today, anyone applying for citizenship through naturalization must file the new N-400, Application for Naturalization. In case you missed it, USCIS released a new version of Form N-400, Application for Naturalization, in February that is double the size of its predecessor. USCIS will only accept the new version beginning today.
The application is longer and more tedious. But CitizenPath has updated its software to continue giving you simple, step-by-step guidance through the application. CitizenPath also alerts you when you've answered a question that could be problematic.
According to USCIS, there are more than 7 million permanent residents in the U.S. that are eligible for citizenship. Here are just three of the reasons to get your N-400 application started with CitizenPath:
Friendly, Live Customer Service.

CitizenPath will assist you at any point in the process. Our customer service team is dedicated to making the process easy for you.

Do-It-Yourself Protection.

CitizenPath lets you know when an attorney is necessary. If you need an attorney, we will tell you. Our priority is to make sure you get the best result – even if that means we have to turn down your business.

Save a Bundle.

Immigration attorneys can be very expensive. So if you don't need one, why pay for one?
---
Not sure if you're eligible? Use CitizenPath's step-by-step, online process to check your eligibility. It is completely free to check your eligibility and use our service to prepare your N-400. Pay only once you are completely satisfied and ready to print. Try it now.