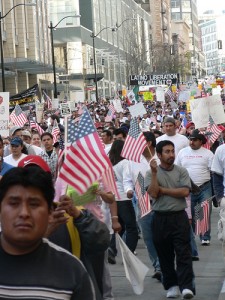 Unable to spur Congress to make meaningful change to immigration law, many activists have shifted their focus to halting deportations of undocumented immigrants.
At the current pace in 2014, President Obama will have deported in the first six years of his presidency more people than George W. Bush did during his two terms. That's not playing well with the same base of Hispanic voters that elected him. Now Obama is maligned by some of the same activists that celebrated him for his executive order on deferred action.
President Obama's deferred action for childhood arrivals, commonly known as DACA, has emboldened many to demand more executive orders from the president to broaden the protections for other undocumented immigrants.
Critics of the deportations point out that most of the people are not serious criminals, and the action is tearing apart families. In March, the president of the National Council of La Raza made headlines by calling Obama "the deporter-in-chief."
Dulce Saavedra said ICE agents came to her home to arrest her father and later deported him to Tijuana.
"How do you tell your siblings that are 7, 8 [years old] … 'Oh, your dad was taken away, and he's not coming back"? said Saavedra, a U.S. citizen. "How do you explain that your family just got ripped apart?"
Last week members of Immigrant Youth Justice Alliance targeted both Rep. Xavier Bacerra, D-Los Angeles, and Rep. Loretta Sanchez, D-Santa Ana, and demanded more action. Bacerra and Sanchez, both members of the Hispanic Caucus, up until now have been beacons for the immigration reform movement. IYJA, and many groups like it, are unsatisfied with the level of action the representatives have taken to stop deportations.
Bacerra and Sanchez have defended their records, and President Obama says he lacks the constitutional authority to halt deportations without a new law from Congress.
Activists vow to fight on, demanding immediate action by Congress and executive authority if necessary. Immigration activists with the National Day Laborer Organizing Network have filed a petition with the Department of Homeland Security arguing that the president does have discretion to make such a move.