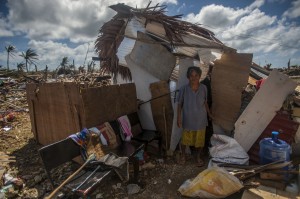 In November 2013, a devastating super storm known as Typhoon Haiyan destroyed large areas of the Philippines and left an estimated 4.1 million Filipinos homeless or displaced. At 235 mph by some estimates, it was possibly the strongest storm ever recorded at landfall.
The U.S. Department of Homeland Security (DHS) is now actively reviewing the Philippines' request for Temporary Protected Status (TPS). DHS may designate a country for Temporary Protected Status due to conditions in the country that may make it dangerous for that country's nationals to return. A decision is anticipated before President Obama's trip to the Philippines this month. This post briefly describes how TPS will help the Philippines.
How Does TPS Benefit Individual Filipino Nationals?
During the designated temporary period, TPS beneficiaries:
Are not removable from the United States
Can obtain an Employment Authorization Document (work permit)
May be granted travel authorization to visit the Philippines and return to the U.S.
TPS applicants must meet eligibility requirements that prevent individuals with criminal backgrounds from receiving the benefits. TPS does not provide a path to citizenship or even permanent residency. And when the TPS designation of a country is terminated, beneficiaries revert to the same immigration status they maintained before the designation. TPS is simply a humanitarian tool to aid countries in need. The Philippines needs TPS now.
How Does TPS Help the Philippines?
The humanitarian crisis in the Philippines has already left the government the heavy burden of rebuilding and supporting affected families. Providing safe refuge in the United States to Filipino nationals that are already here lightens the burden on the Philippines.
What's more, TPS gives Filipino nationals the ability to work in the United States and send money back home and contribute to the rebuilding of the Philippines.
If you are interested in being notified of the TPS decision and the application process, sign up on CitizenPath's TPS page.