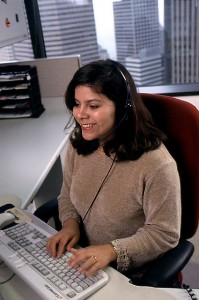 Once you've filed your application or petition with USCIS, you probably want to get status updates. Processing of immigration forms and applications can take several months, and USCIS isn't the most accessible customer service organization.
There are things you can do to minimize the wait and get regular status updates. Properly preparing your form and filing with the correct supporting documents is the best thing that you can do to ensure a short wait. Many people use CitizenPath to prepare USCIS forms because we make it easy and eliminate the problems that can delay your application or petition. We even guarantee that USCIS will accept your application or petition. Unfortunately, there isn't much we (or anyone) can do to expedite your application or petition with USCIS once it has been submitted.
Here's what you can do to get the best status updates from USCIS.
USCIS Status Updates with E-Notification
Start the process by submitting a request for e-notification. This is a very simple form that gets filed along with your primary application or petition. When you file Form G-1145, E-Notification of Application/Petition, with your application or petition, you will get an email and/or text from USCIS letting you know that your application has been accepted.
The e-notification (text or email) will not include any personal information, including your name, because email and text message are not secure ways to transmit this information. The notification will list your receipt number and tell you how to obtain additional case status information.
There's a small catch. This service is only available for forms filed at three USCIS Lockbox facilities located in Lewisville, Texas; Chicago, Illinois; and Phoenix, Arizona. This does cover most forms if you mail them in.
The process is extremely simple and totally free. You can prepare a free G-1145 on the CitizenPath website in just a few seconds.
My Case Status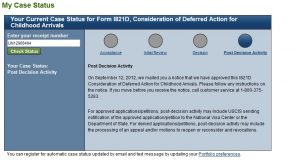 Once your application or petition has been accepted, USCIS will mail you a receipt notice. This receipt notice is formally known as Form I-797, Notice of Action. Most people receive it within 1-3 weeks of filing the original form.
The Notice of Action is an important letter. It will include a 13-character receipt number that begins with three letters (such as EAC, WAC, LIN, or SRC). To view the status of a case, simply enter the receipt number into the My Case Status tool on the USCIS website. To receive regular status updates by text and/or email, sign up for an account.
USCIS Customer Service
If the My Case Status tool is not helpful or your situation requires more attention, you may also contact the USCIS National Customer Service Center (NCSC) for live support. Dial 1-800-375-5283 (from within the United States) to reach the NCSC Monday through Friday. If you are outside the United States and need more information concerning U.S. immigration, you will need to contact the closest U.S. Embassy or Consulate.
Unfortunately, it can be difficult to reach live support at USCIS. But you can submit an online inquiry about your case or request other services. Case inquiries may include:
Your case is outside the normal processing time
You did not receive a notice by mail
You did not receive a card by mail
You did not receive a document by mail
You may also submit a service request such as:
Request accommodations for an interview appointment
Make typographic corrections on a case
It's helpful to prepare for your call or online inquiry by gathering information such as your A-number, receipt number, date when filed, and type of application/petition filed. (Some of these details may not be applicable for your situation.)
Recently, USCIS launched a virtual assistant named "Emma" on USCIS.gov, allowing customers to quickly find accurate information. She answers questions in plain English and navigates users to relevant USCIS web pages.
Make an Appointment with USCIS
Sometimes it's necessary to get hands-on, personal assistance with your case. You can schedule a free appointment to visit a local USCIS office and get answers on your case. Look for the "Make an Appointment" icon on the USCIS homepage to use their InfoPass system to make an appointment.
About CitizenPath
Designed by attorneys, CitizenPath is the online service that makes immigration forms simple. The website provides simple, step-by-step guidance through USCIS applications and petitions. The low-cost service helps to simplify the process by explaining each question and providing alerts if your answer to a question could be a problem. Most people do not need a lawyer to prepare USCIS forms, but many need a little assistance. That's where CitizenPath can help. CitizenPath also guarantees that USCIS will accept your application. CitizenPath provides support for the Citizenship Application (Form N-400), Green Card Replacement (Form I-90), and several other popular forms.