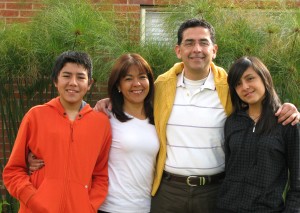 We previously published a basic guide on Preparing for DAPA and developed a DAPA Eligibility Quiz that helps potential applicants determine their eligibility. But gathering the documents necessary to apply for DAPA takes real work. It is tedious and detail oriented.
Just ask DACA applicants who applied within the last couple of years. It has been worth the effort. Eduardo Ramirez-Farias, who recently renewed his DACA status, says "My experience with DACA is a positive one. It changed my life in many ways, such as financially and educationally. Most importantly, I am able to live my life without fear and enjoy the great things in life. This program gave me, as well as others, the opportunity to achieve and succeed the American Dream."
The specific requirements needed to prove eligibility for DAPA are still pending. USCIS will release the requirements with the application. Based on other deferred action programs like DACA, legal experts have suggested the likely documents that we be required to prove eligibility. Obtaining those documents can often be the hard part.
To prove that one qualifies for DAPA, he or she will need:
Proof of identity
Proof of a relationship to a son or daughter that became a U.S. citizen or permanent resident by November 20, 2014
Proof of continuous residence in the U.S. since January 1, 2010.
DAPA Documents for Proof of Identity
The DAPA application will require that applicants establish their identity. Examples of documents that may be acceptable include:
Passport
Birth certificate accompanied by photo identification
Any national identity document from your country of origin bearing your photo and/or fingerprint
Any U.S. government immigration or other document bearing your name and photograph such as:

Expired visa
Drivers license
State identification card
Any school-issued form of identification with photo
Military identification document with photo
Mexican citizens can now obtain official Mexican documents, such as a birth certificate, directly from Mexican consulate offices in the United States. The consulate offices should be able to issue birth certificates for nearly all birthplaces in Mexico. However, some rural villages where documents are not digitally recorded may not be available. There are several Mexican consulate offices across the United States.
Citizens of other countries can contact the foreign consulate office in the United States to request instructions on how to obtain official documents.
There can be many complications when using a birth certificate as a part of an identification package. Typos can create inconsistencies that need to be resolved. Using a false birth certificate over time can make it difficult to use the correct one. Name variations or missing names can also create major complications for the applicant. In all of these cases, the document holder should consult with an attorney before using the birth certificate in the DAPA application process.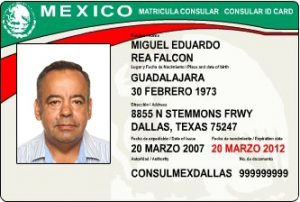 Mexican citizens, and nationals from several other Latin American countries, can use a matrícula consular as a form of photo identification. The matrícula consular is an official government ID issued to a country's nationals living abroad. Combined with an official birth certificate, it is an acceptable form of identification to establish identity. Foreign nationals that do not already have a matrícula consular should contact a local consulate office to learn more.
Residents of California will not be able to use the new AB 60 drivers license. The new license which is available to California residents without legal status is for driving purposes only. It may not be used as a federal ID.
Applicants should use as many forms of identification as possible to establish proof identity. But use only valid IDs that were issued by a trusted source such as a government institution. Those applicants that are tempted to use a fake ID or have used other aliases in the past should consult with an attorney before applying for DAPA.
DAPA Documents for Proof that a Son or Daughter Was a USC or LPR by Nov 14
The DAPA application will require applicants to establish that his or her U.S. citizen or lawful permanent resident son or daughter obtained their status by November 20, 2014. There are two components of evidence: (1) prove that the son or daughter is related to the applicant and (2) prove that the son or daughter was a U.S. citizen or permanent resident by November 20, 2014. A U.S. birth certificate can potentially provide evidence to cover both requirements.
Examples of other documents that may be acceptable include:
Foreign birth certificate
Naturalization certificate
Certificate of citizenship
Permanent resident card
Generally it will be much easier to establish proof that a son or daughter is a U.S. citizen or permanent resident and obtained that status by November 20, 2014. However, problems can arise in some cases.
First, the son or daughter should have a permanent resident card (green card) or naturalization certificate that is evidence of the legal status. If the green card has been lost or stolen, the cardholder is still a permanent resident. But the cardholder will need to replace the green card so that he or she has valid proof of status. It can take 4-5 months to replace a green card. If a replacement is needed, now is the time to start.
A birth certificate is the single best piece of evidence to prove the son or daughter is related to the parent. If the child was born in the United States, the document can typically be re-acquired by contacting the county where the birth took place. Foreign birth certificates can often be obtained through consular offices in the U.S. As mentioned in the previous section, Mexicans can obtain a Mexican birth certificate from Mexican consular offices within the United States.
Issues can arise when one parent is not on the birth certificate. If the issuing agency is not able to re-issue the birth certificate with the second parent, it is best to consult an attorney. An attorney can help to correct this issue so that a birth certificate with both parents' names can be re-issued.
Step children and adopted children could also create an obstacle. Although most experts believe that DAPA eligibility will include parents of step children and adopted children that are now U.S. citizens and permanent residents, USCIS has not provided definitive rules.
DAPA Documents Continuous Residence
The DAPA application will require that applicants establish continuous residence in the United States since January 1, 2010. This means that the applicant needs to prove he or she has lived in the U.S. since January 1, 2010, up until the time of applying. Continuous residence could pose biggest challenge for many applicants. Documenting continuous resident needs to be methodical and complete.
Attempt to submit documents that prove continuous residence for every single month since January 2010. The documents used should have the applicant's name and relevant date on them. Examples of documents that may be acceptable include:
School records
Can include transcripts, report cards, diplomas, Individual Education Program (IEP) records
U.S. Military personnel records
Employment records
Can include income tax returns/tax transcripts, pay stubs, W-2 forms, employment contract, employment letter
Medical records
Can include insurance, vaccinations, doctor visits, dental records, hospital records
Rental agreements
Financial records
Can include bank statements, credit card records, collection notices, online purchase receipts, money transfer receipts (e.g. Western Union, MoneyGram, etc.)
Religious records
Can include baptism certificate, letter from church
Marriage certificate
Divorce certificate
Records of your children born in the U.S.
Can include birth certificates, medical records, day care receipts
Identification documents issued in the U.S.
Can include passport issued by a consulate in the U.S., School ID, gym ID, national or consular ID (e.g. matricula, DNI, etc.)
Bills
Can include gas utility, electric utility, phone service, car payments, insurance payments, mortgage payment receipts
Veterinarian records for your pet
Xbox Live Account
Can include records of downloads, video game purchases, as well as communications with other players
Travel Records
Can include flight itineraries, tickets, rewards program
Dated photographs
Facebook check-ins, tweets
Netflix records
Library card records
Gym membership records
Video store records
Driving record
Again, the applicant should do everything possible to document continuous residence for every month since January 1, 2010. Avoid documentation gaps longer than three months. If there is a gap in documentation, affidavits can be submitted from people familiar with the applicant's residence during the period for which there is a gap.
Rep. Gutierrez Helps with Gathering DAPA Documents
Recently, Rep. Luis Gutiérrez, D-Ill., held a press conference announcing the "Family Defender Toolkit," a pamphlet featuring the requirements needed to apply for the Deferred Action for Childhood Availability (DAPA) program.
"We developed this 'Family Defender Toolkit' that is designed to help people organize the documents they will need when the court injunction is lifted – and it will be lifted, because the law is on the president's side," said Gutiérrez during the press conference.
The pamphlet includes a detachable card for immigrants to alert immigration law enforcement officials about their low priority status from deportation.
About CitizenPath
CitizenPath is the online service that makes immigration forms simple. The website provides simple, step-by-step guidance through USCIS applications and petitions. Our low-cost service helps to simplify the process by explaining each question and providing alerts if your answer to a question could be a problem. Most people do not need a lawyer to prepare USCIS forms, but many need a little assistance. That's where CitizenPath can help. CitizenPath provides support for the DACA Application (Form I-821D), Green Card Renewal/Replacement (Form I-90), and will provide the DAPA Application (Form I-821P) once it is released by USCIS.
DAPA Resource Center
DAPA Eligibility Quiz
All DAPA-related Articles