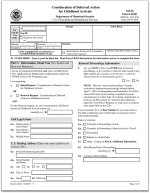 Certain undocumented persons who were brought to the United States by their parents may use Form I-821D, Consideration of Deferred Action for Childhood Arrivals, to apply for "DACA."
Collectively, Form I-821D and the other forms filed together with it are known as the DACA application. Submitting the DACA application means that you are asking U.S. Citizenship and Immigration Services (USCIS) to allow you to stay in the U.S. temporarily until you become eligible for another form of relief, your DACA status expires, or USCIS terminates your deferral.
Benefits of DACA
Deferred action is a technical way of saying that the beneficiary is protected from deportation. A grant of deferred action through the DACA program provides:
Temporary relief from deportation; and
Employment authorization (work permit).
A grant of DACA is valid for a renewable period of two-years.
President Obama introduced the program to give Dreamers some options. It is a temporary measure, and it doesn't solve the problem of immigration status for Dreamers. It's also met some turbulent times, especially through the Trump administration. However, Biden has returned DACA to it's original state. Individuals may submit an initial application or renewal application. While it isn't the long-term solution that Dreamers need, it is the best option to stay protected from deportation and gain lawful employment.
RECOMMENDED: How to Prepare for a DACA Renewal Application
DACA Application Package
To request consideration for an initial grant of DACA or renewal, the applicant must file the following three forms with USCIS:
I-821D, Consideration of Deferred Action for Childhood Arrivals
I-765, Application for Employment Authorization
I-765 Worksheet
All three forms must be submitted together. Initial applicants must submit several supporting documents to establish eligibility for DACA. Renewal applicants must also submit a much smaller list of documents to extend the protections of DACA. Detailed filing requirements can be found at USCIS.gov or by using CitizenPath to prepare your DACA application package. CitizenPath makes the process easier. Designed by immigration attorneys, it's an affordable way to prepare the application package and get clear guidance on the specific supporting documents to submit for your situation.
RECOMMENDED: DACA Eligibility Requirements
Mistakes on your DACA application can cause costly delays or a denial.
Prepare Forms I-821D, I-765, and I-765WS correctly and affordably with CitizenPath. The attorney-reviewed software guides you through the application and provides help to answer questions like this one. And personalized filing instructions help you to file your application today knowing that
you did everything right
! No credit card or signup required to try it.
Get started now >>
Cost of DACA
The fee to request consideration of deferred action for childhood arrivals, including employment authorization and biometric services, is $495. USCIS will not waive this fee. In very rare circumstances, there is a DACA fee exemption.
RECOMMENDED: Cost for DACA Application
What Happens After Filing Form I-821D
The processing time for a DACA renewal application can vary from 6 to 12 months for most applicants. During this time, USCIS will adjudicate the request for deferred action (Form I-821D) and then process the application for employment authorization (Form I-765).
RECOMMENDED: What Happens After Filing Form I-821D for DACA