Certain foreign nationals physically present in the United States may apply for or renew Temporary Protected Status (TPS) with Form I-821, Application for Temporary Protected Status. When filing an initial TPS application or re-registering for TPS, applicants can also request an employment authorization document (EAD) by submitting a completed Form I-765, Application for Employment Authorization, at the time of filing Form I-821 with U.S. Citizenship and Immigration Services.
Temporary Protected Status
The U.S. Department of Homeland Security may designate a county for Temporary Protected Status due to conditions in the country that may make it dangerous for that country's nationals to return. Examples include wars and natural disasters. You can find a complete list of TPS countries on the USCIS TPS page.
[contentblock id=i821-kb-inline-ad]
Eligibility for TPS
Individuals that would like to apply for TPS status must:
Additionally, a variety of other factors can make an individual ineligible to receive TPS benefits. See a complete explanation of TPS eligibility requirements.
Benefits of TPS Status
During the designated temporary period, TPS beneficiaries:
Are not removable from the United States
Can obtain an Employment Authorization Document (work permit)
May be granted travel authorization
Maintaining TPS Benefits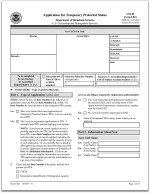 USCIS, an Immigration Judge, or the BIA can grant Temporary Protected Status. Once granted TPS, all beneficiaries must re-register during each re-registration period to maintain TPS benefits. This applies to all TPS beneficiaries. Beneficiaries may re-register for TPS by using the same Form I-821, Application for Temporary Protected Status.
In certain cases, individuals can file a late re-registration application. Without another valid immigration status, individuals may be removable from the United States.