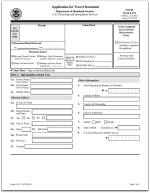 Certain individuals may use Form I-131, Application for Travel Document, to apply for a Reentry Permit, Refugee Travel Document or Advance Parole.
Many non-U.S. citizens must file Form I-131 with U.S. Citizenship and Immigration Services (USCIS) to obtain a travel document before traveling abroad. Basically, the travel document helps protect the individual's ability to reenter the United States.
Note: Form I-131 is different than Form I-131A, Application for Travel Document (Carrier Documentation). Permanent residents use Form I-131A to obtain travel authorization after losing a green card or reentry permit while traveling outside the United States.
Mistakes on your I-131 Application for Travel Document can cause costly delays or a denial.
Prepare your I-131 correctly and affordably with CitizenPath. The attorney-reviewed software guides you through the application and provides help to answer questions like this one. And personalized filing instructions help you to submit the application today knowing that
you did everything right
! No credit card or signup required to try it.
Get started now >>
Reentry Permit
A Reentry Permit is helpful for lawful permanent residents that expect to spend significant time outside the United States but intend to return to the U.S. Normally, a permanent resident may use a green card to reenter the United States after travel abroad. However, the green card is assumed abandoned if the absence is one year or more. A Reentry Permit can help prevent this problem.
RECOMMENDED: Green Card Abandonment: Risks of Travel Abroad
Refugee Travel Document
A person with refugee or asylum status who wishes to travel outside the United States needs a Refugee Travel Document in order to return to the United States. In most cases, a refugee or asylee may use the Refugee Travel Document for travel in place of a passport. The Refugee Travel Document is similar in appearance to a U.S. passport.
Advance Parole
Certain people in other immigration statuses can use Advance Parole as permission to reenter the United States after traveling abroad. Examples of other statuses that may be eligible for Advance Parole include adjustment of status applicants, temporary protected status, U visas and persons with a grant of LIFE Act Family Unity Program benefits.
RECOMMENDED: Advance Parole Travel after Adjustment of Status