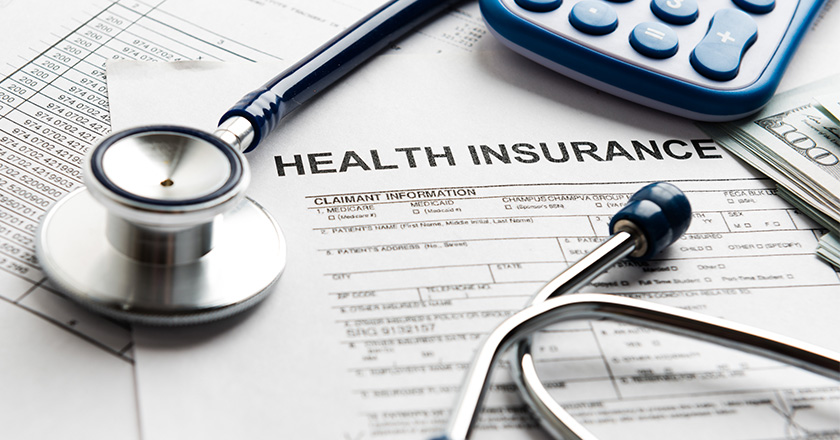 Health insurance is not an absolute requirement when filing Form I-944, Declaration of Self-Sufficiency. However, it is extremely beneficial. Medical expenses can be very costly, even for individuals with a good income. Health insurance can help pay for any reasonably foreseeable medical costs. Having private health insurance is a positive factor in favor of a finding that you are not likely to become a public charge.
Applicants who have a significant medical condition should expect to have an I-485 application denied without adequate resources to cover those expenses. That's because a medical condition that is likely to require extensive treatment or institutionalization, or that will interfere with your ability to provide and care for yourself, to attend school, or to work, is also a factor that will reduce your ability to be self-sufficient. You may not be wealthy. Health insurance helps mitigate the possibility that expensive medical bills will leave you dependent on the government for support.
RECOMMENDED: Public Charge Rule Explained
Filing with Unsubsidized Health Insurance
USCIS considers having private health insurance a heavily weighted positive factor if the insurance is appropriate for the expected period of admission, and you aren't receiving subsidies in the form of premium tax credits under the Affordable Care Act (ACA).
For purposes of the public charge inadmissibility determination, private health insurance is considered a heavily weighted positive factor in the totality of the circumstances and includes, but is not limited to:
Any employer-provided health insurance, including federal government employment-provided healthcare including Tricare (for military members and their families)
Private health insurance provider through the Patient Protection and Affordable Care Act (ACA) Health Marketplace without a subsidy
Medicare
Other health insurance sold by the private industry and bought or purchased for or by the person
Medicaid for children under the age of 21 or pregnant women (and women for up to 60 days after giving birth)
Children's Health Insurance Plan (CHIP)
State-only subsidized health insurance, including state-based exchange; and
Health Insurance subsidized by foreign country
Did you know minor mistakes on your Form I-944 Declaration of Self-Sufficiency, can cause costly delays and or even the denial of a green card?
Prepare your I-944 quickly and correctly with CitizenPath. The attorney-reviewed software guides you through the declaration and provides help to answer questions like this one. And personalized filing instructions help you to submit the form today knowing that
you did everything right
! No credit card or signup required to try it.
Get started now >>
Filing with Subsidized Health Insurance
Generally, having other health insurance, even subsidized, may be a positive factor, but not a heavily weighted positive factor.
Medicaid for applicants under the age of 21
Medicaid for pregnant women (including 60 days after pregnancy)
CHIP/State Children's Health Insurance Plan (SCHIP)
Health Marketplace subsidized insurance
For applicants age 21 or older, recent (within the past 36 months) or current receipt of Medicaid that constitutes a public benefit, is a heavily weighted negative factor. If you are at least 21 years of age and have ever used Medicaid benefits, we recommend that you consult with an immigration attorney before applying forms with USCIS.
ADVERTISEMENT

Filing with No Health Insurance
Lack of health insurance is a negative factor in the totality of the circumstances, particularly if you have a significant medical condition that limits your ability to be self-sufficient. The combination of no private health insurance and a significant medical condition will be weighted as a very negative factor. You likely cannot hide your health condition. A significant health condition will generally appear on your Form I-693 (medical exam).
USCIS will weigh all the positive and negative factors in an applicant's background. These factors include age, health, family status, assets, resources, financial status, education, and skills.
You may also provide positive evidence to counterbalance any negative factors due to a significant health condition. Evidence may include a letter from your doctor about the condition and how it does not prevent you from working and caring for yourself. Alternatively, proof of assets and other financial resources that could cover reasonably anticipated medical costs will be considered factors that help mitigate the negative health factor.
RECOMMENDED: Health Insurance for Immigrants