Marine Lance Cpl. Jose Gutierrez: A Real American Hero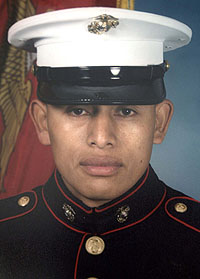 Marine Lance Cpl. Jose Gutierrez was one of the first U.S. service members killed in combat in Iraq, yet he was not even a citizen of the country for which he sacrificed his life.
In 1997, U.S. Immigration and Naturalization Service detained a very young boy (reportedly 16 years of age) who had made the 2,000 mile journey from Guatemala without his parents. His parents has passed away in the country's civil war. Gutierrez, with the help of his own two feet and about 14 freight trains, successfully navigating his way to the United States with the dream of becoming a citizen and making a living as an architect.
As a minor without family, INS granted him asylum and made him a ward of Los Angeles Juvenile Court. Although he spent time in several foster homes, he eventually was able to settle with Marcelo and Nora Mosquera, themselves immigrants from Ecuador. Gutierrez completed high school and delayed plans for college to pursue his first dream: U.S. citizenship.
He enlisted in the U.S. Marines. Serving in the U.S. armed forces provides immigrants a fast track to U.S. citizenship. Jackie Baker, the Mosqueras' adult daughter, said that Gutierrez "wanted to give the United States what the United States gave to him. He came with nothing. This country gave him everything."
Lance Cpl. Jose Gutierrez, 22, died in a firefight March 21, 2003, near Umm Qasr. In honor of his military service and death in combat, he was awarded his U.S. citizenship posthumously.
Gutierrez authored a poem in 2000, entitled "Letter to God" that was read at his funeral. "Thank you for permitting me to live another year, thank you for what I have, for the type of person I am, for my dreams that don't die. May the firearms be silent and the teachings of love flourish."
Thank you for your service and sacrifice Marine Lance Cpl. Jose Gutierrez. You were an American even before you gave your life.
Return to Famous Immigrant Birthdays in January